HISTORY REPEATS
MNN.  Feb. 1, 2013.  In the 1770's Joseph Brant was one of the most prominent traitors of the Mohawks. In 1804 he was kicked out of the Iroquois Confederacy by the people. He committed treason and treachery to help the British try to wipe out the Mohawk Nation. He helped take down the Tree of Peace and put in its place the US constitution of war.  Joseph Brant died alone in 1807 in his mansion in Burlington Ontario. Two years earlier he murdered his own son. That's the end he deserved. According to Wampum 58 of the law of the land, when the pine tree is chopped down, his voice is never to be heard by the people ever again.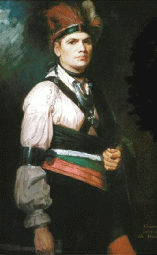 Brant died alone because of his treachery to his people [right].
Canadian Senator Brazeau is Harper's poster boy to add an Indian face to the appointed Senate. He said that though Idle No More has put aboriginal issues in the news, he does not support their methods. "They don't stand for anything," he said. "I, as an Algonquin person, am living proof that no one will colonize me."  [LOL].
Brazeau, like all other Senators, reports to the shareholders [bankers]. He makes sure the band and tribal council chiefs are good Indians, who push the global agenda. The omnibus bills were written by the Senators. He lobbies for these bills to be passed. These bills are meant to relinquish our existence and our title to our land and resources. He helps the economic royalists, who are accelerating the extraction of our resources for their global war economy.
Brazeau is not an Algonquin. Both his feet are out of the canoe. He took an oath to the Queen of England and forfeited his native identity. In fact, he colonized himself. His women should remind him of this fact. He adopted new customs, language and ideologies.  He is indistinguishable from the white culture he represents.
The wannabe Holly "wood Indian" is supposed to lull our young people into wanting to become a traitor like him. He is helping the economic royalist bankers steal our land and the ever-growing $4 trillion Indian Trust Fund stashed in Indian Affairs in Ottawa. Mark Carney, former Governor of the Bank of Canada, is trying to siphon the loot over to the banker royalist syndicate in England. INTERPOL is now investigating him.
Brazeau, as Hank Williams advised:  "Your cheatin' heart will pine some day, and crave the love your threw away.  The time will come when you'll be blue.  Your cheatin' heart will tell on you."
Hank Williams: Your Cheatin heart