MNN. Jan. 31, 2014. It was May 1979 when a silver limousine pulled up beside my daughters and I on Wellington Street in, Ottawa, by the Parliament Buildings. A man in the back seat motioned me to roll down my window. It was Prime Minister Pierre Trudeau. He told me he would call me the next day. I thought nothing more of it. 
I went to work at Indian Affairs and got a call. "Hi, this is Pierre". "Who?" I said. He wanted me to bring my kids over to the Prime Mnisterial residence at 24 Sussex Drive, so his boys, the same age as my daughters, could have a swim together. We decided to go a few days later.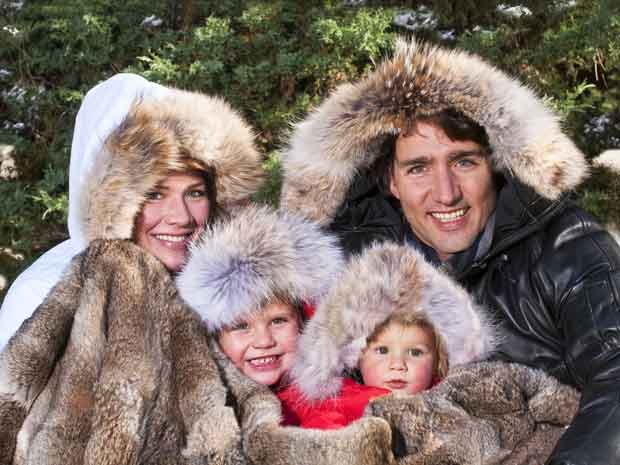 He greeted us and the kids had a great time in the pool. His eldest, Justin, got along very well with my eldest daughter. Then they all went into this playhouse building full of fantastic toys. Pierre and I had a snack at a table in front of the window overlooking the Ottawa River.  
He told me his family came from St. Remi, the town next to Kahnawake, where I come from. I told him I saw a picture in MacLean's Magazine of his cousin who sells eggs in my village. We talked for a while on th principles of the Great Law and the Guswentha. He said he had relatives in my community. He laughed when I said that I wouldn't be surprised if he had some Mohawk ancestry. He was very interested in Mohawk culture, expecially about our origins on Montreal Island.  
His kids had baked a cake for him, which we all shared. They were then sent to bed. And we went home.  
A few days ago Justin made a very important decision to address the broken governmental systems in Ottawa. He is removing all Liberal Senators from his Parliamentary caucus. He sees that the party system of politics is the breeding ground of greed and corruption. 
We hope he will address the real constituional issues, which is the autocratic power of the prime minister's office. He appoints the judges, senators and the Governor General who prorogues Parliament whenever he tells him to. There are no check and balances for the power of the PMO in the Canadian constitution. He has absolute dictatorial powers in this country.  
Justin's family for many generations were born on Mohawk land. His father now resides next to us permanently in St. Remi. His father never got the constitution ratified by the people. He faltered on his duty to protect the Canadian people from the international bankers. Justin will right these wrongs.  
As Neil Young sings in his new Canadian National Anthem: "Mother Earth and her giving ways, or trade away our children's days".  Neil Young. "Mother Earth".
"Justin Trudeau Senate Surprise."
MNN Mohawk Nation News kahentinetha2@yahoo.com  For more news, books, workshops, to donate and sign up for MNN newsletters, go to www.mohawknationnews.com  More stories at MNN Archives.  Address:  Box 991, Kahnawake [Quebec, Canada] J0L thahoketoteh@hotmail.com for original Mohawk music visit thahoketoteh.ws