Please post & distribute. Nia:wen.
MNN. Oct. 14, 2015. This statement was put out on local media: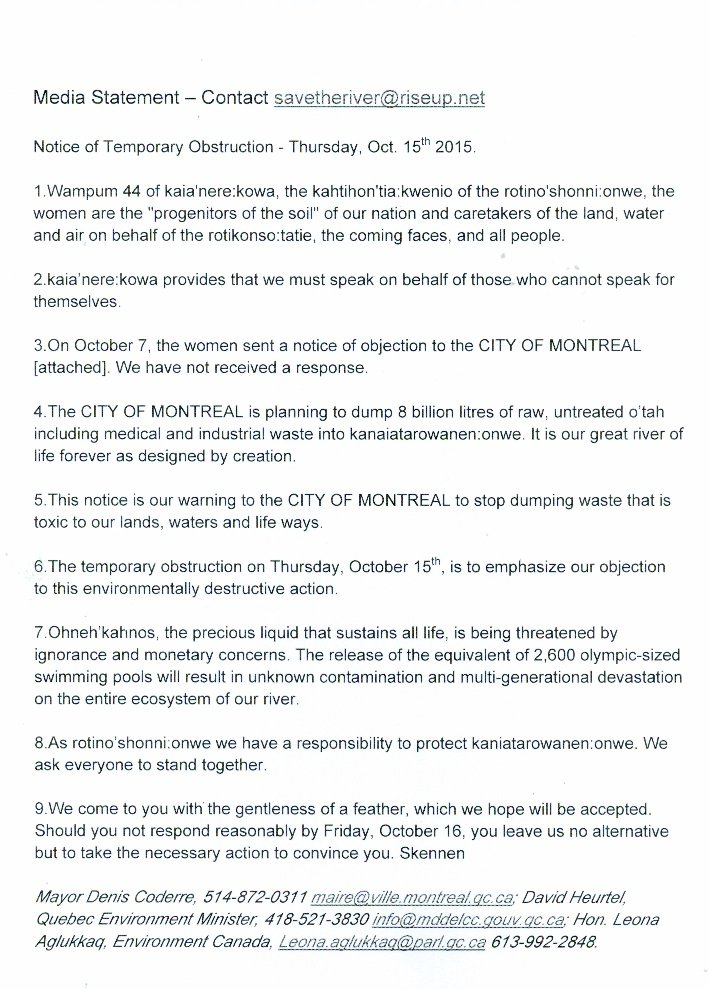 The kanion'kehaka plan to obstruct Montreal's scheme to dump their 8 billion litres of raw o'tah into our river. Mayor Coderre pledges to begin the big poop on Sunday, October 18th. The "Family Compact" and "Chateau Clique" are behind this mess. In Quebec James McGill and John Molson formed the Chateau Clique around 1800. They became wealthy and powerful by stealing our land and funds and trying to kill us off. They established Montreal as their own republic. Their whole Canadian banking system is illegal and set up by these same people. They steal more than enough to put their ca-ca somewhere else.
Their offspring are now in control. They select the prime ministers, bureaucrats and all form of gatekeepers to maintain their control matrix. As Mark Twain said, "If voting really mattered, they wouldn't let us do it!" kaniataronwanon:onwe is our river designed by creation to take care of all life.
McGill and Molson families, stop complaining and clean up your poo-poo! You remind us of the song we heard in the school yard sung by the whining brat. "Nobody likes me, everybody hates me, I'm going down the garden to eat worms. Long thin slimy ones, short fat fuzzy ones. Ooey gooey, ooey gooey worms. Long thin slimy ones slip down easily. Short fat fuzzy ones don't. short fat fuzzy ones stick to your teeth. And the juice goes slurping down your throat."
MNN Mohawk Nation News kahentinetha2@yahoo.com or more news, books, workshops, to donate and sign up for MNN newsletters, go to www.mohawknationnews.com  More stories at MNN Archives.  Address:  Box 991, Kahnawake [Quebec, Canada] J0L thahoketoteh@hotmail.com for original Mohawk music visit thahoketoteh.ws