Please post & distribute.
MNN. Mar. 30, 2019. On Monday, April 1, 2019, the AIAI, Association of Iroquois and Allied Indians, is having a press conference at the Press Gallery on Parliament Hill. AIAI is alerting the world about the proposed "Framework/Reconciliation Agreement" on the extinguishment of native people and extraction of our land and resources by the pretend democracy known as the Government of Canada.  
This Framework Agreement that the Government of Canada is pushing is based on the idea of "framing, to create false evidence". Frame-up "is conspiracy or plot, especially for evil purposes, so as to incriminate"  the duped First Nations Inc. [BLACK'S LAW]. The Framework/Reconciliation Agreement is to frame us into being extinguished on false evidence.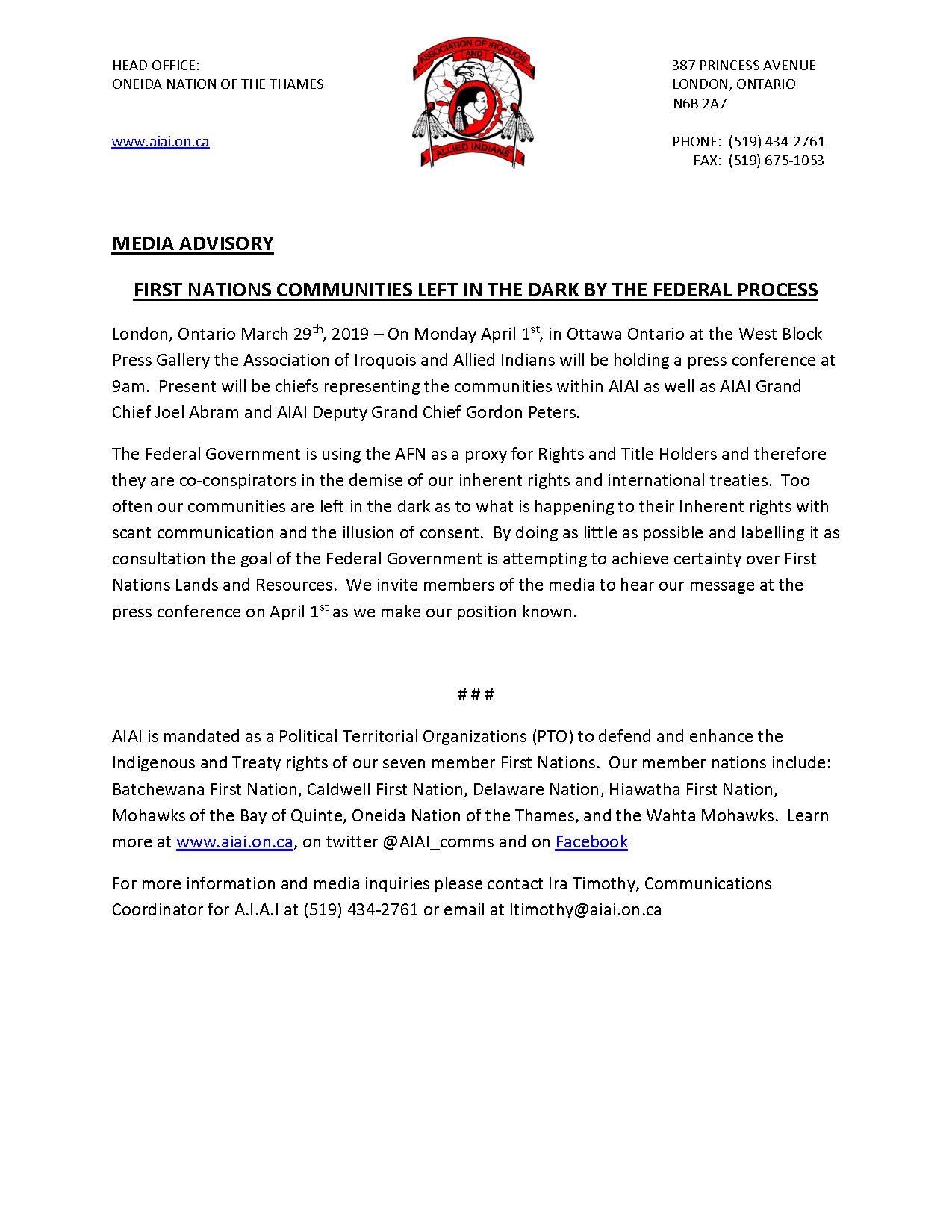 https://ourcommons.azureedge.net/data/ConversationJWRandWernick-e.m4a?fbclid=IwAR1aAwXj6s-wbyEaRhHJzzksm6X_B-wqQ3O4qp89VoDpYwnJmCgKBtBntoY
MOHAWK NATION NEWS CONTINUES TO GUARD THE TRENCHES. READ THE – "CANADA – DISSOLUTION IS THE SOLUTION" AND "SPITTING BEAR EXTINCTION PLAN PART 2, ON THE FRAMEWORK/RECONCILIATION AGREEMENT TO BRIEF YOURSELVES:
GRASSY NARROWS, TRUDEAU PLAYED TO HIS BASE. INSTEAD OF RUSHING THE ARMY IN THERE TO CLEAN UP THE MESS LEFT BY A CORPORATE CONTRACTOR IN THE PAST. https://globalnews.ca/news/5104937/justin-trudeau-protester-liberal-fundraiser/?fbclid=IwAR3jtgsheKeQA956nv-uAeL_QofvB4D9rjZrRfHs9aViSl4RVAW0ABbU3DQ
TRUDEAU GIVES $600 MILLION TO THE  PROPAGANDA NETWORK KNOWN AS THE MAINSTREAM MEDIA IN HIS BUDGET. AS NAZI PROPAGANDA MINISTER GOEBBELS SAID, "THINK OF THE PRESS AS A GREAT KEYBOARD ON WHICH THE GOVERNMENT CAN PLAY.' https://nationalpost.com/news/politics/600m-in-federal-funding-for-media-a-turning-point-in-the-plight-of-newspapers-in-canada 
Cheech and Chong said it right in "I've been framed": "I was sitting in the coffee shop, Just minding my own affair. When all of a sudden this policeman caught me unaware. Said, "Is your name Pedro?" I say, "Yeah, i guess so." He said then come with me, cause your the man we've been looking for, he said. "Hey, man, I've been framed, man". I was framed. I never done anything wrong. But everytime i get the blame. I've been framed".https://www.youtube.com/watch?
Attached are two critiques:
CANADA: DISSOLUTION IS THE SOLUTION. https://mohawknationnews.com/blog/2019/03/26/canada-dissolution-is-the-solution/
SPITTING BEAR – EXTINCTION PLAN – PART 2
PRIME MINISTER TRUDEAU ANNOUNCED WE ARE IN GREAT NEED OF MENTAL HEALTH PROS IN OUR COMMUNITIES: THE QUESTION IS, "WHO'S CRAZY?"  The question is, "Who's Crazy?" https://www.youtube.com/watch?v=XlErKLhMk64 
THE ASSIMILATE FIRST NATIONS INC. CHIEFS ARE SCRAMBLING FOR THE MONEY AND THE PEN TO SIGN AWAY THEIR BIRTHRIGHT.  https://www.bclocalnews.com/opinion/the-wrong-chiefs-are-signing-pipeline-benefit-agreements/?fbclid=IwAR07LEajHTV0RKgjzqGwDUzBJuAJ2WPc_i00wmIFQrWkU_CWJX03sl6WZeQ
GLOBAL CONSTRUCTION CARTEL: BLACKROCK, SNC & BANKS https://shawnpaulmelville.com/2019/03/18/blackrock-snc-canada-infrastructure-bank-meet-the-global-construction-cartel/?fbclid=IwAR1x20FMxJ8o0IkGBm-cBgbEVIPNBQbT9O7wa8IOtlB0hwLoOU27y8FIt2w
www.mohawknationnews.com  kahentinetha2@protonmail.com Box 991, Kahnawake [Quebec,Canada] J0L 1B0. Nia:wen. See MNN Home Page.