Please post & distribute.
MNN. Oct. 8, 2017. Columbia means United States. British Columbia means the United States in British territory. The legal name of the United States is Columbia. Anything with that name has nothing to do with great turtle island. Yet immigrants celebrate the lie every year to appease their epigenetic past memories. They are reminded of the mass murder, theft, atrocities and criminal behavior committed against all life on great turtle island.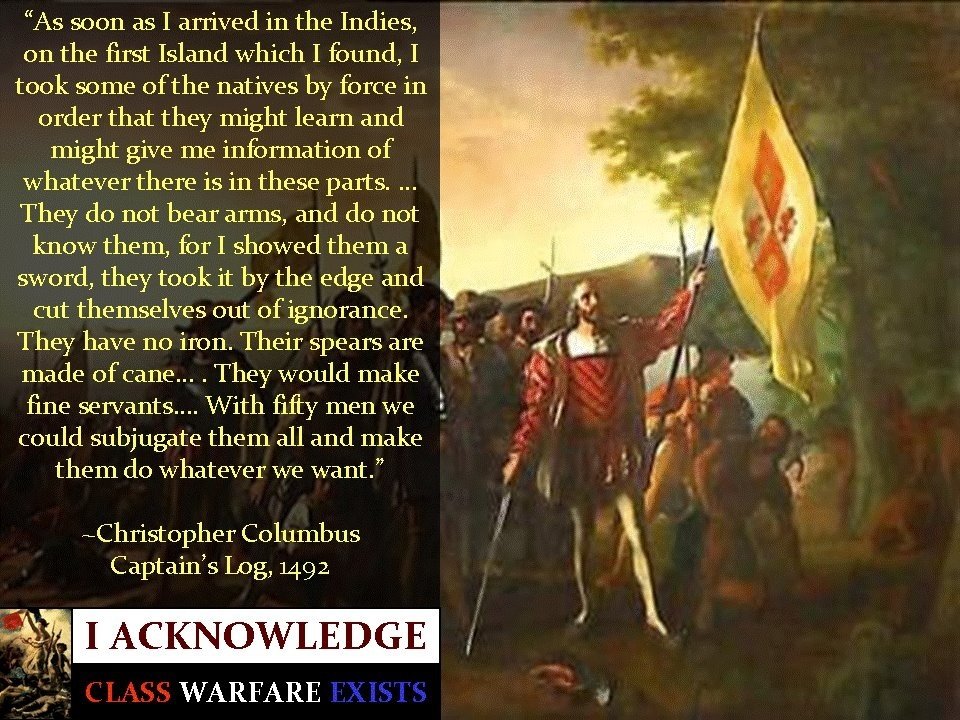 Our epigenetic memories are the ohenton kari-wa-tekwen, the original instructions we have with creation. We got our clans and protocol on how to live in peace with all natural life. Our wampum system reminds us of our genetic memory for thousands of years, just like all life. 
Except for a few, the immigrants don't remember back one past life. They follow a religious faith based on no facts at all. Their reincarnation trap never frees them, making them slaves forever. 
The Parliamentary Rage Room is designed to promote the win or lose, black and white dualism of the corporate slave system which creates conflict. They have been programmed that the corporate majority rules. The true natural way is to come to a consensus. 
Christopher Columbus is a non-explorer who never set foot on great turtle island. This and other fantasies are coming down.  
Columbus and his supporters stand for mass murder. People have to be told the whole truth, to stop living a lie. The criminals must be charged. Everything has to be made right.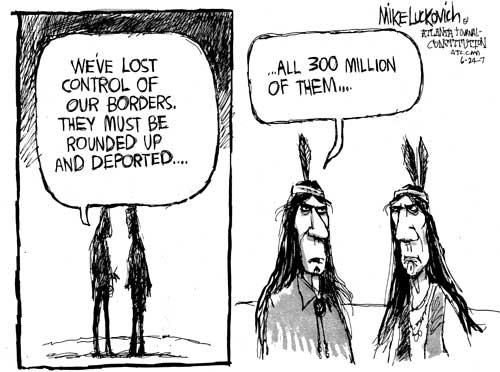 Our smart young people are taking over. We tried to expose many of the secrets of the immigrants. Any statue or statute that glorifies the genocide of our people has to be destroyed. All momentos of war heroes like Lincoln, Washington especially, John A. MacDonald and Mount Rushmore should be imploded. Anything that honors these monsters must be dissolved.   
The Columbus statues that are going down are all singing the Rolling Stones song, "Hand of Fate": "The hand of fate is on me now. It knocked me right down. I'm on the run. I'm prison bound. The hand of fate is heavy. I killed a man. I'm highway bound. The wheel of fortune keeps on turning round. Turnin round. Turnin round. I should have known it was a one horse town. My sweet girl, once his wife. They had papers that the judge had signed. The wind blew hard. It was a stormy night. He shot me once. But I shot him twice. The hand of fate is on me now. It picked up and kicked me right down. Kicked me right down." 
Mohawk Nation News kahentinetha2@yahoo.com for more news, to donate and sign up for MNN newsletters, go to mohawknationnews.com More stories at MNN Archives.  Address: Box 991, Kahnawake [Quebec, Canada] J0L 1B0 
http://aptnnews.ca/2017/10/03/quebec-says-trudeaus-rhetoric-on-first-nations-relationship-doesnt-match-constitutional-reality/
TRUDEAU BERATES GATHERING https://ca.news.yahoo.com/justin-trudeau-berated-hill-gathering-184426863.html
NYC MAYOR CONSIDERS REMOVING COLUMBUS CIRCLE CENTREPIECE  http://www.telegraph.co.uk/news/2017/08/25/new-york-mayor-bill-de-blasio-considers-removing-christopher/
MEANING OF "COLUMBIA"  https://www.merriam-webster.com/dictionary/Columbia
FILM TAKE-OFF ON TORONTO MAYOR https://fmovies.is/film/filth-city.0rpn7/k4z656 "Filth City" is every municipality.