Please post & distribute widely. Nia:wen.
MNN. November 5th 2015. The kohtihon'tia:kwenio (women title holders) have launched a crowd funding campaign to raise $1 billion in 60 days. We want to permanently stop the dumping of toxic sewage, medical, industrial and pharmacutical waste into kaniatarowano'on:we. Mayor Coderre of MONTREAL says he needs $1 billion to stop throwing 8 billion litres of o'tah into our river. We need your help. The effects of this dump will impact all bodies of water connected to kaniatarowano'on:we ("St. Lawrence River), including the Great Lakes watershed, Finger Lakes region and all tributaries for untold generations. On this issue we are of one mind. The power is the people! We can stop the corporate practice of dumping into our river. CLICK HERE for the crowd funding campaign – every little bit helps! Please share in your networks and ask your friends, family and allies to make a modest donation. If we do not reach our goal of $1 billion in 60 days you will be refunded your contribution. Nia:wen kowa for your efforts and support.
Letter to the mayor: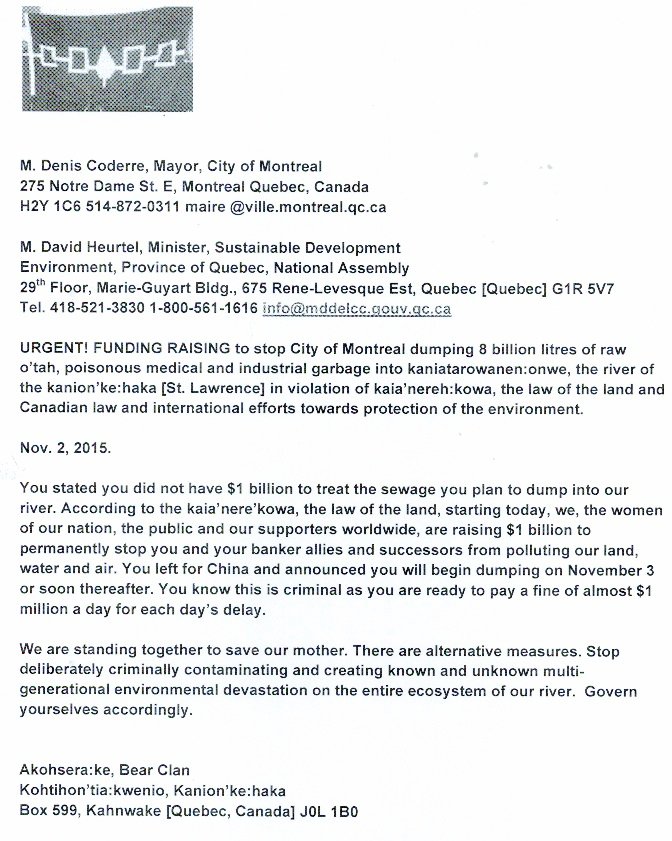 MNN Mohawk Nation News kahentinetha2@yahoo.com or more news, books, workshops, to donate and sign up for MNN newsletters, go to www.mohawknationnews.com More stories at MNN Archives. Address: Box 991, Kahnawake [Quebec, Canada] J0L thahoketoteh@hotmail.com for original Mohawk music visit http://thahoketoteh.ws
onkwe'hon:weh refuse money for land in BC.