Please post & distribute.
MNN. Dec. 27, 2016. A tyrant doesn't suddenly take power. The people hand it over, out of fear and a desire for safety. At Standing Rock the army is attacking and trying to kill us" for our own safety"! FAKE NEWS IS PROPAGANDA!
War is tyrannical power based on lies, to get the power they sought in the first place. False flag terrorism leads to setting up dictatorial empires.
The rulers create the crisis, ask for emergency powers, suspend civil liberties and do away with the true democratic process. Emergency powers outlive the emergency.
Civil disorder is anti-government terrorism and race wars, like white cops killing black people and state/corporate theft of resources or unexplained fears of certain races, other states and even outer space aliens. THREATENING PROTESTORS & PETITIONERS IS FASCISM!
The government that plans to seize power practices open in-your-face corruption.
The patriotic sounding leader conducts endless conflict. Artificial crises are generated from inside and outside for the government to respond to. Civilians are attacked. Internal critics are silenced.
Justice is almost non-existent. An oppressive police state is welcomed. Liberty is taken away little by little. Slavery is delivered unnoticed through thunderous applause.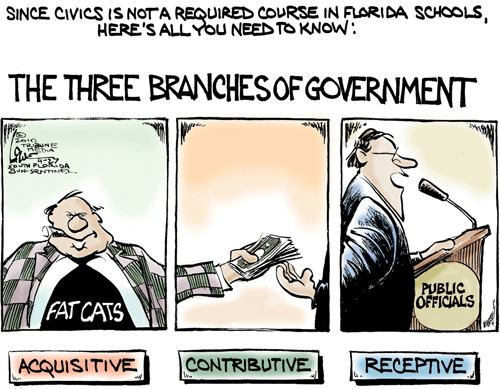 The soldiers coming from the front become the jackboot oppressors. DECLARING A MINORITY AS AN INTERNAL ENEMY AND CALLING FOR MILITARIZED UNITY IS FASCISM! They murder their own people in civil disobedience scenarios. The state exonerates them from punishment. Concentration of power under one ruler is fascism.
Enemies worldwide are created. World war is called for. The same corporate interests for both sides create weapons and the rules of war. A super military is set up.
Only the persistent telling of the real and full truth can counter lies. The public must understand the emotional, psychological motives and financial interests of the corporation. They must know the facts about us.
State terrorism exploits the fears of the people. Temporary power with great promises are offered. Unlawful orders are passed for unlawful wars. Martial law – order, security and efficiency – are imposed. Former President Bush declared in effect, "If you aren't with us, you're a terrorist?"
The US and Canada are rogue states. The wars they serve are unlawful. The current standoff at Standing Rock is illegal.
The perpetrators must be arrested for terrorism and looting of our property and resources. The fraudulent tribal and band councils are the corporation's foot soldiers at the grassroots. Floyd Red Crow Westerman sang about the fraud, "We are not your INDIAN anymore":
Censored News Update of shootings at Standing Rock bsnorrell.blogspot.com
LET'S TELL THEM WHERE WE STAND: Politicians, Corporatists, Band & Tribal Councils and sell-outs that are cooperating with pipeline companies;
ENERGY TRANSFER STRATEGIST: Michael (Cliff) Waters, Lead Analyst 77002 (713), 989-2404 Michael.Waters@energytransfer.com
NORTH DAKOTA: Office of the Governor Jack Darymple: 701-328-2200; Morton County Sheriff's Department: 701-328-8118 & 701-667-3330; Allen Koppy Morton County Attorney 701.667.3350; N.D. National Guard: 701-333-2000; Army Corps of Engineers (202) 761-5903
U.S. Embassy Worldwide & Ottawa, 490 Sussex Drive, Ottawa, Ontario K1N 1G8: (General): 613-688-5335, (Emergency): 613-238-5335, (Media): 613-688-5315 Fax: 613-688-3082, US Embassy of the United States, London UK, Switchboard: [44] (0)20 7499-9000, White House Washington 202-456-1111 or (202) 456-1414
ENERGY TRANSFER, 214.981.0700: Lee Hanse, Executive Vice President, 800 E Sonterra Blvd #400, San Antonio, Texas 78258 (210) 403-6455   Lee.Hanse@energytransfer.com Glenn Emery, Vice President (210) 403-6762 Glenn.Emery@energytransfer.com
Call Bernie Sanders202-224-5142; Call Hillary Clinton 646-854-1432—
Archie & Lakota corpo tribe – Rock Industries.
https://www.facebook.com/AkwesasneTV/videos/1365437303469269/?hc_ref=NEWSFEED loran & francis
http://www.brasschecktv.com/videos/war-crimes-1/whats-really-going-on-in-syria.html these tactics being used by the west in syria