Please post & distribute. Nia:wen.
MNN. Jan. 12, 2015. France is undergoing a big awakening from a long dark nightmare. As the soldiers and police are moving amongst them, violent events are taking place initiated by the banking quagmire. Prime Minister Hollande even said the perpetrators of the attacks at Charlie Hebdo are the "illumine". Their top investigator died mysteriously. The French want kari'wi:io, kasa'tsen:sera, sken'nen – unity, strength and peace.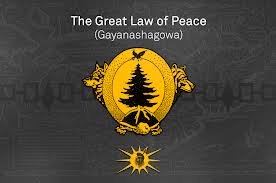 They are going back to ideas that came from the French Revolution when they removed their monarchy. The ideas for peace were exported to France from their colonists, the Quebecois.
The same false flag scenario took place recently in Ottawa Canada and Sydney Australia. The same crisis actors, writers, directors with a local film crew.
In 1701 we Ongwe'hon:weh of Great Turtle Island taught the French the Great Peace, the formula for all dispute resolution. They took it to France and started the French Revolution to create a republic. Their collective mind is being sparked through their ancient memories of their association with us. They are following the roots back to the tree that was planted in their minds in 1701. The French position on Russia and Palestine could be a contributing factor to them being targeted for this operation.
In 1609 the French project was to kill all the Mohawks, the "keepers of the eastern door" of Ono'ware:geh [Great Turtle Island] and the enforcers of the Great Peace. The French and the British wanted the entire continent. After 92 years of warfare, the French lost all the battles and sued for peace.
In 1701 the Iroquois Confederacy and 49 other nations physically represented 500 nations of Great Turtle Island through alliances and friendship belts. The French were the first to accept an international treaty of peace – the Great Peace of Montreal, June 25, 1701. In 1710 we sent five chiefs to London for the first international world peace conference. Only Russia has shown us their wampum belts from that trip.
The French collective mind is being reconnected to "la paix".
As the adopted Parisian, Jim Morrison, sings in PEACE FROG: "Blood in the streets run a river of sadness. Blood in the streets, it's up to my thigh. Yeah, the river runs red down the legs of the city. The women are crying rivers of weeping".
https://www.youtube.com/watch?v=X34JarNjoIU
See: French President Hollande blames "illumine".
MNN Mohawk Nation News kahentinetha2@yahoo.com or more news, books, workshops, to donate and sign up for MNN newsletters, go to www.mohawknationnews.com  More stories at MNN Archives.  Address:  Box 991, Kahnawake [Quebec, Canada] J0L thahoketoteh@hotmail.com for original Mohawk music visit thahoketoteh.ws