SPLITTING-THE-SKY
MNN. MAR. 15, 2013.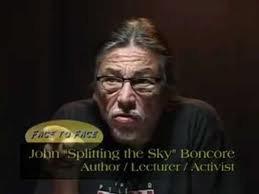 Mohawk Warrior and Champion of the People Dies – March 13, 2013. A great loss to the people, to the nation, to the resistance, anti-imperialist  movement right across Great Turtle Island.

On March 13th, Dacajeweiah, Splitting-the-Sky, 61, left us forever when he passed away in his home in Adams Lake, British Columbia. Dac's colonial name was John Boncore Hill, from Six Nations. "From Attica to Gustafsen Lake," and thereafter, he was a warrior, a comrade, a brother, a father, a grandfather, a friend.
We deeply mourn his loss.
The family will release a biographical statement and details of memorial arrangements in due course. With deepest love to his wife, She-Keeps-the-Door, and children. We stand with Dac's many many co-fighters and friends. He loved the People. The AIM song is dedicated to the continuance of the resistance after a warrior has fallen A.I.M. song
MNN Mohawk Nation News kahentinetha2@yahoo.com  For more news, books, workshops, to donate and sign up for MNN newsletters, go to www.mohawknationnews.com  More stories at MNN Archives.  Address:  Box 991, Kahnawake [Quebec, Canada] J0L 1B0.