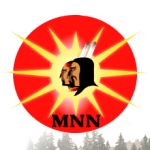 Please post & distribute.
MNN. Oct. 15, 2023. This information comes from Demilitarize McGil and elsewherel.
audio:
TO THE PEOPLE OF THE WORLD: We are all sovereign members of the world.  This is about MILITARY RESEARCH AT MCGILL UNIVERSITY [MONTREAL]. Onowarekeh, turtle island, is a Land of peace and shall remain so. 
Demilitarize McGill explains, "Conventional weapons kill people and demolish structures by creating an enormous amount of explosive force containing sharp and deadly fragments. Thermobaric weapons produce a blast wave that is of longer duration. Fuel-air explosives first saturates the air with fuel, creating a cloud that expands in many directions and flows around objects. A second charge ignites this oxygen-fuel mix creating a very large explosion and pressure that can knock down structures, destroy equipment and goods and incinerate people. The US developed these weapons for Vietnam and works with the Canadian military. McGill also works with the police and intelligence agencies through their Network Dynamics Lab. They research social responses to sudden and rapidly evolving social conditions, both terror and otherwise. 
McGill's School of Computer Sciences' researchers are building computers [Artificial Intelligence AI] on how different segments of the population respond to perceived crises. Its school creates an "assessment system" on how different segments of the population are thinking and acting. Also being developed is "mapping the distribution of features of communities of concern. An "incident-specific" tweet collection system is created for the government. 
MILITARY RESEARCH AT MCGILL UNIVERSITY [MONTREAL]
At least 6 labs are at McGill University carrying  out research on behalf of weapons monopolies: particularly for drone warfare, missile guidance, domestic surveillance, explosives and air combat. The university has been fighting an Access to Information requested by members of Demilitarize McGill for internal communications on McGill military research since 2102. On June 21, 2016 McGill released 600 pages of documents related to the mechanical engineering laboratory's association with defence contractors. 90 per cent of the request for information has yet to be fulfilled. Below is information on some of the military initiatives and connections that activists have uncovered over the past several years.
MCGILL'S MILITARY ROBOTICS AND DRONE RESEARCH AEROSPACE MECHATRONICS LAB.  
McGill's Mechatronics Lab is involved in both developing of ground and airborne robots for combat operations through contracts with Defence Research Development Canada DRDC, an agency of the Department of National Defence DND. With Suffield Research Centre, they aim to "study the enhancement of soldiers' actions in combat missions" through unmanned technology. 
Their interest is to develop technology for "autonomous landing systems for unmanned aerial vehicles UAVs" "for decisive operations in the urban battle space". "McGill could contribute to weaponized drone technology so that drones will make their own decisions to kill and execute them. 
COMPUTATIONAL FLUID DYNAMICS CFD LABORATORY. https://peaceanddisarmamentmcgill.wordpress.com/cfd/
CFD receives funding from Bombardier and Bell Textron, which are involved in war production. Obama used these weapons for targeting assassinations in Pakistan, Afghanistan, Yemen and Somalia. 
Demilitarize McGill stated that simulation software FENSAP-ICE was sold to Lockheed Martin in the early 2000s through a company owned and operated by the lab's director. Lockheed Martin used the technology for the F-35 fighter jet. 
MISSILE GUIDANCE RESEARCH.
McGill's Department of Electrical and Computer Engineering collaborated on missile guidance systems with Lockheed Martin, DRDC, and military researchers in Israel from 1999 to 2010 on projects such as "Decision Aids for Airborne Surveillance", "guidance laws for the stabilization of missile trajectories", "lethality and lethal radiuses to determine how many were killed by missile strikes", "track or detect methods in tracking low-observable targets", and "problems of detecting multiple targets". 
Lockheed Martin, and. McGill researchers are often private partner. They sell at least 21 distinct guided missile products – including the shoulder fired Javelin and air-to-ground Hellfire. The US and its allies use guided missiles developed by Lockheed Martin in such military campaigns as Iraq and Afghanistan. US military uses Hellfire missiles from Predator drones to deliver thermobaric payload targets.
HYPERSONIC WEAPONS.
The McGill Dept. of Mechanical Engineering's Shock Wave Physics Group is the longest standing military research lab at McGill. Particularly air-breathing propulsion for hypersonic weapons and thermobaric explosives. This is a system for propelling aircraft and missiles through continuous intake of air from the atmosphere during flight and composition creates combustion when the air reacts with the fuel. 
McGill's military-related research collaborate with DRDC's Valcartier Research Centre on "solid fuel projectiles with long-range, shorter time-to-target and increased kinetic energy  for higher kill probability. This is part of the US development of Prompt Global Strike. This gives the US military the capability to strike anywhere in the world with a non-nuclear weapon within one hour of permission to launch.
What strikes us is that if we look at all military expenditures all legitimate needs of human kind are ignored. Instead the expenditure is on military whose major aim is to kill humanity. University students do not know what their academics are doing.  
Buffy Sainte Marie agrees that we have to stop greed, corporate laws and fear from running and ruining the world. 
"He's five foot-two and he's six feet-four. He fights with missiles and with spears. He's all of 31 and he's only 17. Been a soldier for a thousand years. He'a a Catholic, a Hindu, an Atheist, a Jain. A Buddhist, and a Baptist, and a Jew. And he knows he shouldn't kill. And he knows he always will. Kill you for me, my friend, and me for you. And he's fighting for Canada. He's fighting for France. He's fighting for the U.S.A. And he's fighting for the Russians. And he's fighting for Japan. And he thinks we'll put an end to war this way. And he's fighting for Democracy. He's fighting for the Reds. He says it's for the peace of all. He's the one who must decide, Who's to live and who's to die. And he never sees the writing on the wall. But without him How would Hitler have condemned them at Labau? Without him Caesar would have stood alone. He's the one who gives his body as a weapon of the war. And without him all this killing can't go on. He's the Universal Soldier and he really is to blame. His orders come from far away no more. They come from here and there and you and me. And brothers, can't you see? This is not the way we put the end to war"
THE WORLD STANDS WITH PALESTINE:
https://bsnorrell.blogspot.com/2023/10/the-world-stands-with-palestine-un.html
mohawknationnews.com box 991, kahnawake, que. canada. J0L 1B0