Please post & distribute. 
MNN. Sept. 27, 2017. sken-nen, kari-wiio, kasa-stsenera and atonwa-kowa are the four principles that bind together the original instructions from creation to all life.
sken-nen is the bond of love of one another, our families, our people and all life. kanoron-watsera keeps us unified with natural reality.
kari-wiio is the perfect reality, our connection with the real natural environment, tionheh-kwen. Each individual, family and the people function in harmony with one another and the different elements. We are part of one family that supports one another.
kasatsten-sera is that which creation provided to have a strong mind, one that we are obligated to exercise. Creation intended that each must question any exercise of power.
Astonwa-kowa is the ability to bind all these principles together as one, the perfect formula designed by creation for peace.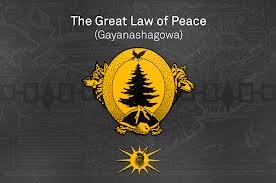 Floyd Westerman heard what happened to those who fight against the great peace: "All the lies that were spoken, All the blood we have spilled, All the treaties that were broken, All the leaders you have still. Custer died for your sins! Custer died for your sins!Oh, a new day must begin Custer died for your sins".
https://sputniknews.com/analysis/201709291057821043-russia-us-eu-history-nazi-germany/ Why US falsifies Russia beating germans in WW2
Mohawk Nation News kahentinetha2@yahoo.com for more news, to donate and sign up for MNN newsletters, go to mohawknationnews.com More stories at MNN Archives.  Address: Box 991, Kahnawake [Quebec, Canada] J0L 1B0 
DISSOLVE CORPORATION  http://missoulian.com/news/state-and-regional/article_98b75856-8c28-5069-8d07-0202b6635cfa.html
DEBEERS PLUNDER IN ATTAWAPISKAT https://warriorpublications.wordpress.com/2016/04/15/de-beers-colonial-plunder-in-attawapiskat/amp/
https://www.facebook.com/TYTpolitics/videos/1927077014206671/ DAPL PAYS $15 TO NORTH DAKOTA
COWICHAN ASSERT CLAIM http://www.jdsupra.com/legalnews/claimants-of-aboriginal-title-over-78537/
GINA DEER OF MOHAWK COUNCIL NOT SHOT IN LAS VEGAS   http://www.cbc.ca/news/canada/montreal/quebecers-shooting-las-vegas-1.4316172 
TORONTO ROLE IN DESIGNING INDIAN ACT https://www.thestar.com/opinion/commentary/2017/09/17/torontos-forgotten-role-in-the-creation-of-the-indian-act.html