Please post & distribute. Nia:wen.
MNN. 30 Mar. 2015. Prime Minister Harper wants to replace the genocidal Indian Act with tougher corporate rules to kill the natural people of this land. These colonial genocide laws do not legally apply to us, only to your corporate members who vote in your system.
Canada, US, New Zealand, Australia and Israel want to legalize genocide so the Vatican cannot be punished for carrying out the biggest genocide in all mankind. These serpents are in the Vatican, City of London and Washington DC. making war on everyone. The Minister of Immigration's vile rhetoric about attacking Russia is how the murder of our people was discussed and planned in Parliament. Monday night Harper's government voted to extend the Iraq mission indefinitely and to bomb Syria. UK and EU voted not to. Canada and US are bombing Syria.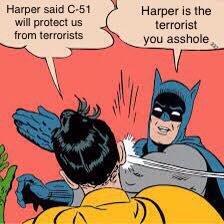 Canada is a corporation, a colony of the British Empire, not a legal country. Ia-te-ho-ne-se-ra-ien means they have no footprints on Great Turtle Island. Their ship can only make a small whirlpool. They cannot make a final assault on us with these new rules.
We Ongwe'hon:weh will write the rules after the collapse of Canada. With no Indian Act the Great Peace will apply to every part of Great Turtle Island. We will negotiate with all the colonial settlers so they can become of one mind with us, as we did in 1701. We are the land. They must follow our way or leave.
Canada must implement the 1960 UN Declaration on the Granting of Independence to Colonial People.Decolonization Act. Once the Indian Act is gone, everything reverts to us. Over $900 trillion of our stolen funds will be returned from the bankers. All taxes and rent will be turned over to us.
When we told one of our men, the same age as Harper, about his plans for the final solution of the INDIAN problem, he said, "I challenge warrior chief Harper to a bare knuckle fist fight to the death in Parliament so everyone can witness it. Winner takes all!"
The Iroquois Confederacy think those who would try to destroy us cannot do so without bringing about the downfall of the whole earth. The dream is world union under the shade of universal law. Unless Canada sits down quietly under the Tree of Peace with us, they will destroy themselves.
Stephen Harper, Motorhead sings this directly to you: "If you like to gamble, I tell you I'm your man. You win some, lose some, all the same to me. The pleasure is to play. Makes no difference what your say. I don't share your greed. The only card I need is the Ace of Spades".
https://www.youtube.com/watch?v=KysKdijAhJI
No. 1: 100 million Ongwe'hon:weh. 15 worst genocides in history.
http://aptn.ca/news/2012/10/18/harper-government-unveils-path-to-repeal-indian-act/
http://nationalunitygovernment.org/content/australian-government-chooses-jail-and-punish-first-nations-people-rather-protect
Minister of Immigration war-mongering:
MNN Mohawk Nation News kahentinetha2@mohawknationnews.com For more news, books, workshops, to donate and sign up for MNN newsletters, go to www.mohawknationnews.com  More stories at MNN Archives.  Address:  Box 991, Kahnawake [Quebec, Canada] J0L 1B0 thahoketoteh@mohawknationnews.com original Mohawk music visit thahoketoteh.ws