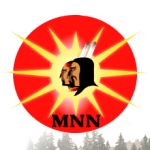 Please post & distribute.
MCGILL TRIBUNE Nov. 2, 2023
PROTESTORS DEMAND UNIVERSITY ACTION AND CEACEFIRE IN GAZA midst growing global movement for Palestine-021120231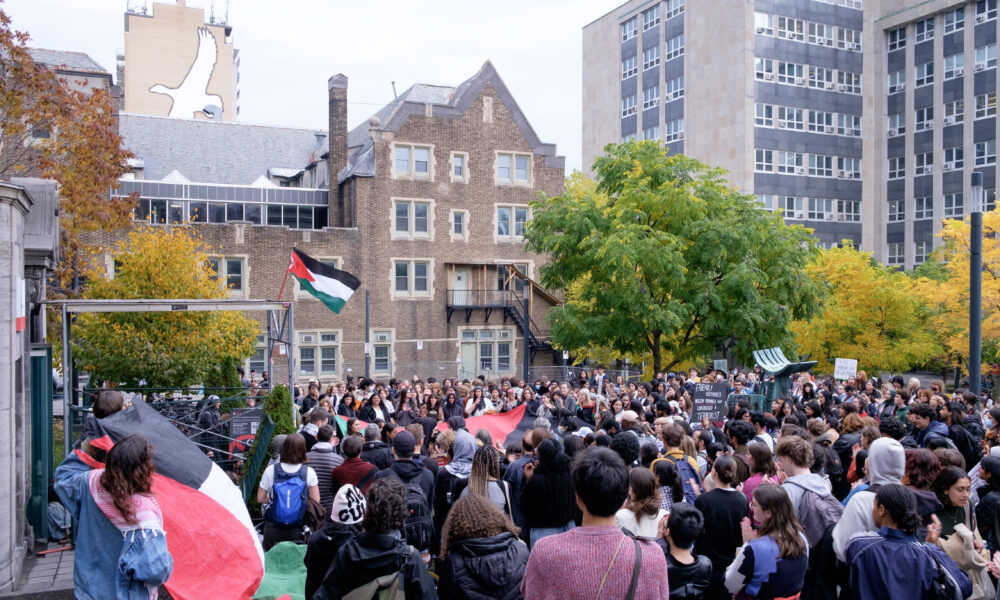 https://mohawknationnews.com/blog/2023/11/02/judge-overturns-mohawks-tobacco-conviction/
Content Warning: Mentions of violence, death, antisemitism, and Islamophobia
Students flooded out of class at 1:30 p.m. on Oct. 25 to join a growing crowd at the Y-intersection, many donning keffiyehs, waving Palestinian flags, and holding signs in support of the Palestinians in Gaza. The protest eventually moved to the James Administration Building, where members of Students for Palestinian Human Rights (SPHR) McGill blocked the entrance in an attempt to pressure the university to meet their demands.
The protest was part of a wider walkout movement across North America in solidarity with the people of Gaza. In Montreal, SPHR McGill, SPHR Concordia, Solidarité pour les droits humains des Palestiniennes et Palestiniens at Université de Montréal (UdeM) and Université du Québec à Montréal (UQÀM), and Al Raya Dawson partnered to organize and promote the walkout. The organizations listed three demands on their social media platforms: "Divestment from weapons' manufacturers which arm Israel's genocide in Gaza," "an immediate end to Israel's siege on Gaza and U.S. and Canada funding for Israel," and "to cease exchange programs with Israeli institutions and cut ties with current and future Zionist donors."
On Oct. 7, Hamas staged an attack that killed more than 1,400 Israelis and resulted in more than 200 people being taken hostage, according to the Associated Press. Israel has retaliated by launching an extensive bombing campaign, and now ground incursions, in Gaza. Estimates place the Palestinian death toll since Oct. 7 at over 9,000 and the number of people displaced at over 1.4 million, according to Al Jazeera and the Associated Press.
McGill has sent out a series of university-wide statements following the Oct. 7 attack, including one that specifically mentions SPHR McGill, accusing the group of "celebrating violence" on social media and demanding that the group stop using the McGill name. Other McGill communications have encouraged "looking out for each other in sorrowful times" and referenced the university's Initiative against Islamophobia and Antisemitism (IAIAS). 
Protester Salma El emphasized the importance of everyone—not just people from the Middle East—demonstrating support for the Palestinian cause, and called for an immediate ceasefire.
"I am North African, so we're kind of brothers with Palestinians," she said. "To be seeing a genocide happening all over again and no one is talking about it just makes you lose hope in humanity, lose hope in leaders. And I just think that maybe, if anything would have happened to Ukrainians, maybe the world would have reacted another way. Just because it's Palestinians, no one is saying anything."
As the crowd grew, SPHR McGill organizers started by leading chants and then delivered a land acknowledgement, drawing a parallel between settler colonialism in Canada and historic Palestine. Chants of "FREE, FREE, FREE PALESTINE" and "VIVA, VIVA, PALESTINA" echoed through the centre of campus as a large Palestinian flag was hung on a rolling whiteboard behind the speakers.
Following the land acknowledgment, an SPHR McGill member reiterated the groups' demands and voiced support for the Kanien'kehá:ka Kahnistensera (Mohawk Mothers)—a group of Kanien'kehá:ka women resisting McGill's New Vic project over concerns that there may be Indigenous children buried in unmarked graves on the site.
Professor of Arabic Literature Michelle Hartman and representatives from SPHR McGill, Socialist Fightback, and the Palestinian Youth Movement (PYM) addressed the crowd. Organizers then called for the crowd to travel up from the Y-intersection to the steps of the Arts Building as the chants continued.
Organizers led the crowd in cheering, "RESISTANCE IS JUSTIFIED, WHEN PEOPLE ARE OCCUPIED" and "PALESTINE IS OUR DEMAND, NO PEACE ON STOLEN LAND," followed by chants in Arabic.
The Mohawk Mothers—who held a teach-in on the archaeological work happening on the New Vic site from 12:30 to 2:30 p.m. in the Leacock building—then addressed protesters from the Arts Building steps, reaffirming their solidarity with the Palestinian cause.
After the Mohawk Mothers' speeches, protest leaders continued their rallying calls before announcing that SPHR McGill members had blocked the entrance to the James Administration building, and the protest would be walking to meet them. Much of the crowd followed suit and relocated to the site of the sit-in.
At the James Administration building—which hosts various key McGill decision and policy makers, including the Office of McGill's Principal and Vice-Chancellor, Deep Saini—the crowd swarmed to surround the small group that was occupying the area in front of the entrance, blocking office workers from going in or out. One protestor climbed the scaffolding, planting a Palestinian flag above where the student protesters sat. The Tribune talked to an SPHR McGill spokesperson who was part of the sit-in while it was happening.
"The demand is basically to end this bizarre and angry genocidal campaign that's being imposed on the people of Gaza right now, and also for our universities to divest from arms manufacturing companies, which are actively funding this regime," the SPHR representative said. "McGill-specific demands were, of course, to revoke the threats that were made about changing SPHR McGill's name [….] The threat of revoking our name, it came from a place of this university refusing to associate itself with a policy and student movement, but also to pretend that there is no segment of the McGill population which stands up for Palestine."
In front of the blocked entrance, various professors spoke out in support of the movement, including associate professor of political science William Roberts, associate professor of Indo-Tibetan Buddhism Lara Braitstein, professor of Islamic Studies Rula Abisaab, and Hartman.
"The administration's response so far has been timid and cowardly. Generally, the McGill administration cares more about the appearance of civility than about the truth and more about the opinion of a few vocal donors and alumni than about the academic freedom of young scholars," Roberts wrote in an email statement to the The Tribune after the protest. "I don't expect that to change. Happily, the students don't need the administration's approval or assistance."
A Palestinian student who wished to stay unnamed expressed the importance of those at McGill and in Canada speaking out.
"It's important to show solidarity. Especially, you know, we have a lot of privilege here, where we have free speech, we should use it," they said. "I would like to see the university send an email to us condemning what's happening to Gazans and also divest from all the money they're pouring into Israel's pockets."
The student, like Salma El, expressed disappointment in the lack of support they've received from the school, pointing to the difference between how the university responded to the Russian invasion of Ukraine and the current Israeli attacks on Gaza.
"When everything was going on in Ukraine, they sent a very supportive email to Ukrainian students, they announced their support for Ukraine because it was, you know, being occupied, and they were against it," they said. "So, it's not that McGill doesn't want to be political, it can when it wants to."
In a statement to The Tribune, McGill Media Relations Officer Frédérique Mazerolle expressed that "Members of the McGill community are free to express themselves and to associate within the bounds set by our university's Statement of Principles Concerning Freedom of Expression and Peaceful Assembly, Charter of Students' Rights, and Policy on Academic Freedom."
"Free association and free expression are rights we affirm. But these freedoms are not absolute, and the words we choose, and how we communicate them, matter. We are staunchly committed to building and sustaining a campus community where our diverse identities are honoured and celebrated, where we are safe to express our identities, and where we can all flourish," Mazerolle went on to write, echoing an Oct. 8 email sent out by Associate Provost (Equity and Academic Policies) Angela Campbell and Deputy Provost (Student Life and Learning) Fabrice Labeau.
The university did not answer questions pertaining to divestment from companies that support the Israeli military or the state of Israel, McGill's Oct. 10 email demanding that SPHR McGill stop using the McGill name, or differences between how the Russia-Ukraine conflict and Israel-Palestine conflict have been handled.
While there was a large turnout, some students have expressed concerns about the walkout. A portion of the Mohawk Mothers' speeches, which was posted on Instagram by SPHR McGill and later deleted, gained traction on X, formerly called Twitter, where users felt it appealed to antisemitic tropes that characterized Zionism as monetization, corporatization, and control. 
"The Kahnistensera stand in solidarity with all oppressed groups," the Mothers wrote in a statement to The Tribune after the walkout. "When seen through the lens of our own struggles for liberation, it is clear to us that the struggle in Palestine is the same as the struggle of all oppressed groups in the world including Jewish people. The common oppressor is European colonialism."
"It is very detrimental to consider any criticism of Zionism as a criticism of Judaism," the group added. "Zionism is not Judaism: it is a modern nationalistic ideology weaponizing antisemitism to displace Jewish people and use them to get rid of Palestinians whom they dehumanize."
Others pointed to language throughout the protest that they felt lauded Hamas' Oct. 7 attack and criticized a pro-Palestine sign that depicted the Star of David, a symbol of Judaism, instead of utilizing the flag of Israel or words.
"Antisemites often find their way into anti-Zionist spaces. This goes the other way, too, by the way, there's anti-Palestinian racism and Islamophobia within right-wing Zionist movements. And it's on those Zionist movements to stamp that out, as well," a Jewish student who wished to remain anonymous said to The Tribune after the walkout. "Yet, it is so black and white on campus,  that […] there's seemingly no room for Jewish allies of ending the occupation, Jewish allies of the Palestinian cause—those of us who want to see an end to violence."
SPHR McGill did not respond to The Tribune's request for comment before the publication deadline.
The protest continued until around 6 p.m., with the organizers distributing QR-code petitions in support of the people of Gaza.
Our Arawack brother Bob Marley states it clearly: "Until the philosophy which holds one race superior and another inferior is finally and permanently discredited and abandoned, everyhere is war. Everywhere is war. Me say war. That until there are no longer first class and second class citizens of no nation, until the color of a man's skin is of no more significance then the color of his eyes. Me say war.'