PLEASE POST & DISTRIBUTE.
MNN. July 20, 2016. Mrs. Obama is Mrs. Trump's hero. At the Republican National Convention in Cleveland, Mrs. Trump repeated Mrs. Obama's speech of 8 years ago almost verbatim.
The remaining speakers gave "smoke and mirrors" performances. Most speeches were hateful and frightening, telling us things like, "We won't hate you if you obey us". Or like George Bush said, "You're with us or you're with the terrorists". Trump says things like We have the guns and we can kill anybody we please, reminding us of the Monroe Doctrine and its gunboat diplomacy as it plundered southern great turtle island. [See Smedley Butler "War is a racket" at end of article]. Americans are being programmed to attack without question. Lt. Gen. Michael Flynn glorifies war. https://www.youtube.com/watch?v=9bA-Z2vmaFU
Even the new Prime Minister of England, Theresa May, is imitating Trump. Like a proper fascist, she is prepared to nuke hundreds of thousands of people. The corporate agenda is to start World War III. http://www.globalresearch.ca/uk-prime-minister-theresa-may-says-yes-shes-prepared-to-kill-hundreds-of-thousands-in-nuke-attack/5536444
Trump is using fear as his prime motivating factor in the election. Donald Trump 2016 is reminiscent of Adolph Hitler 1933. https://www.youtube.com/watch?v=DFNUdCtMXWE
The stark similarity includes lies, threats, abuses, extremism. Trump's followers even pledge allegiance and salute him. His victims gravitate to their abuser, like women afraid to leave brutal husbands. Americans are mesmerized and terrified of what he might do if he becomes president.
Totalitarian leaders send anyone who does not agree with them to death camps. This is the war for the minds of the people. They are told they can't run away because their bosses will find them. For their safety they stay close to their abuser. Judge for yourself. [See Jiuliana's speech below].
Hear them repeating campaign slogans four times in a row while they clap like seals: "USA, USA, USA, USA" like "Heil Hitler".
The residential school holocaust psychosis has conditioned many of today's corporate band and tribal INDIAN leaders to obey their abusers. These amnesiacs now control our communities and are selling us out.
The priests groomed the young men with chocolates and kindness, sexually abused and ruined them. Then let them go, with promises of favors and jobs. Trump's subconscious trigger is 'you're fired'. "If you don't do what I say, you won't get a job". [See Apprentice below]. 
This is part of the Indian Ring strategy being used on white people.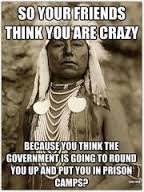 Trump says he wants to make America safe again. For who? It was very safe for the natural world before the faschists got here.  Americans will not get away with mass murder of our people. Now their own people are being threatened by the same extremists that committed the onkwe'hon:weh holocaust.
Ozzie Osborne gets it right about Trump [Iron Man]: "Now the time is here for iron man to spread fear. Vengeance from the grave kills the people he once saved. Heavy boots of lead fills his victims full of dread. Running as fast they can, iron man lives again."
ALERT: PayPal has taken all of MNN's funds [$150] without explanation. Asking for payment to close down account. MNN Mohawk Nation News kahentinetha2@yahoo.com for more news, to donate and sign up for MNN newsletters, go to mohawknationnews.com More stories at MNN Archives. thahoketoteh@ntk.com Address: Box 991, Kahnawake [Quebec, Canada] J0L 1B0 or original Mohawk music visit https://soundcloud.com/thahoketoteh
CBC REPUBLICAN CONVENTION FEAR.
Apprentice: https://en.wikipedia.org/wiki/The_Apprentice_(U.S._season_1
Any complaints: Contact –
US Department of Justice, 950 Pennsylvania Ave NW Ste 7141, Washington +1 (202) 514-2000
All Media, Pope Benedictum XVI, St. Peter's Sq., Vatican City, Rome Italy; Canadian Center for Foreign Policy Development,press@royalcollection.org.uk(National Forum on Africa);
Prime Minister Justin Trudeau j.trudeau@parl.gc.ca
UN Secretary General
Ban Ki-moon, 1st ave. and 46th street
NY 10017 1 (212) 963 1234