Please post & distribute.
MNN. Nov.  27, 2018. For over 20 years we, sovereign onkwehonweh, exhausted the court system all the way through to the Supreme Court of the United States. [Jones v. Parmley 17-928]. Over 100 of us were viciously attacked on May 18, 1997, by the New York State "Indian Detail" on Onondaga land. Our human rights were violated at all levels of the court system [Federal Trial Court, Federal Appeals Court and Supreme Court]. The only corporate court left is the World Court, the International Court of Justice, at The Hague. 
We've been blocked from serving it on the World Court in violation of the UN Charter and the Declaration on the rights of Indigenous People. We need your help to file this case that is posted below @ https://tworowjusticevunitedstatesworldcourt.com/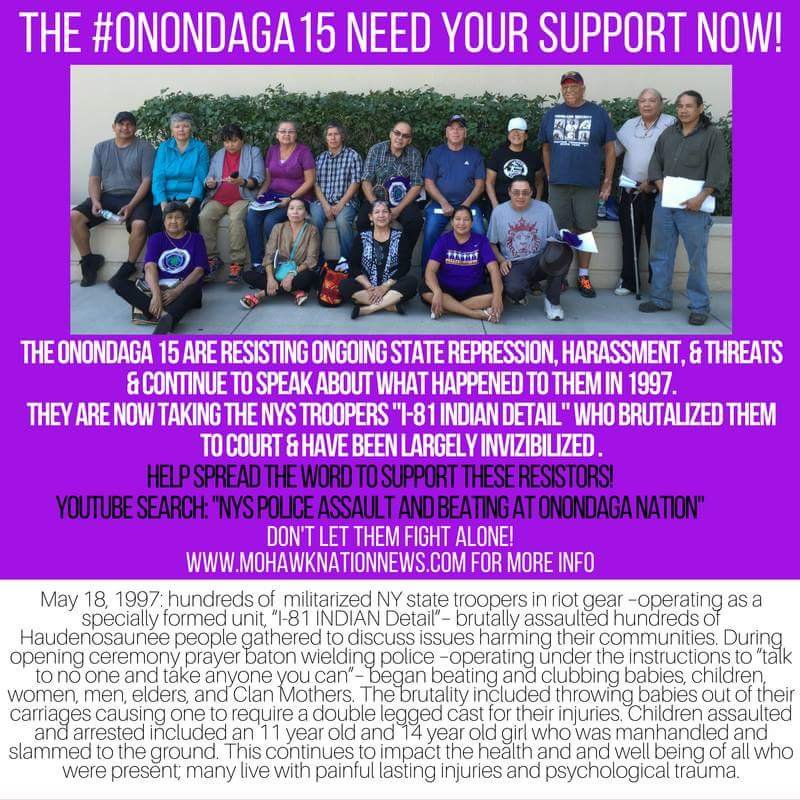 atiatonhatstserraraken – Pure White Belt.
ne arihonnih karaken watston nehtsi ne enhakienterestakwe tsi iatahonton ne kahnikonrakson tohkani kahnohsatstera atiatenaktonni net rahotinikonrakon ne rotiianer tsi rotitsenhaien ahosennakon ne skennenkowa. karaken ne atehniententsera ne skennen, kahnoronkwatsera atahtitenron, tahnon ne saiaioton, tehonakwatasehton tahnon rohtnikonrareh ne wisk nihononwentsakeh.  kayoni #60, kaianerekowa.
**********READ THE ENTIRE CASE, WHY WE ARE TRYING TO SERVE IT ON THE WORLD COURT AND WHY WE NEED YOUR HELP:-  https://tworowjusticevunitedstatesworldcourt.com/
FORWARD YOUR COMMENTS TO: World Court Information Department World Court <in**@ic*****.org> information@icj–ij.org. Mr. Philippe Couvreur Registrar, International Court of Justice,Peace Palace, Carnegieplein 2, 2517 KJ The Hague, The Netherlands in*********@ic*****.org. UN Secretariat of the Permanent Forum on Indigenous Issues (SPFII). Division for Inclusive Social Development (DISD), Department of Economic and Social Affairs (DESA), United Nations Secretariat (29th Floor), 405 E 42nd Street, New York, NY 10017 in***********@un.org 
 [Onondaga15] ka***********@ya***.com; 
www.mohawknationnews.com ka***********@ya***.com Box 991, Kahnawake [Quebec,Canada] J0L 1B0. Nia:wen. See MNN Home Page.
https://www.cbc.ca/news/canada/saskatoon/colten-boushie-united-nations-1.4621772