Please post & distribute.
MNN. MNN. MAY 7, 2016. A rotiskenrakete recalls when Akwesasne was surround by the military in 1989. "Somebody from the band/tribal/handsome lake longhouse reports to the military. "Antis" were trained and put into position ahead of time.
Control over us is critical because we never relinquished our land and resources. A 100-year plan was made to assimilate/genocide us by 2024. in 1924 POW [prison of war] camps, called numbered "reserves", were set up to imprison onkwe'hon:weh. The "INDIAN Affairs war room" was run by the Department of War and then Department of Defense. US Bureau of Indian Affairs and the Department of War are same.
"It's always about controlling the people. Bingo halls, casinos and slot machines could be set up by the onkwe'hon:weh independant nations. BIA reassured them that federal and state regulatory agencies did not apply. The kanion'ke:haka could proceed into the gaming business.
"The Mohawks were becoming prosperous and asserting their legitimate right to self-determination. The New York State public petitioned Albany to stop the kanion'kehaka/Mohawk as they were losing money because of the restaurants, gas, cigarettes, bingos and casinos.
"To illegally invade Akwesasne NYS used the excuse that slot machines were illegal in NYS, even though Akwesasne is not in NYS. The previous night the rotiskenrakete got a call from Washington DC that they were to be raided. In July 1989 over 1,000 NYS Troopers, federal marshals and FBI surrounded Akwesasne. National Guard and surrounding counties police were on alert.
"37 armed onkwe'hon:weh men defended the community and the people. They backed out all police forces. Akwesasne was placed under marshall law.
"Antis surfaced. Some acted as though they were with the rotiskenraketeh. In fact, they were collaborators.
"Roadblocks surrounded Akwesasne. More Troopers arrived, costing $1 million a day. The highways were empty. Fort Drum Army Base was on alert.
"The standoff lasted for months. The media was kept out, except for a few. "Supporters/provocateurs" and mediators were sent in. Fletcher Graves believed the people spoke the truth but his people would not hear of it. Graves explained the destruction of the Black Panthers by the Department of Justice. Undercover agents were sent into meetings in homes to gather information. The government would then send in assassins to kill the targets and their families.
"Meetings were held with NYS Troopers' commanders at bingo halls on Route 37. The rotiskenrakete had one speaker. The others listened. NYS wanted Route 37 opened. They were asked, 'Why do you come in here with guns to talk about peace?' NYS was chasing the onkwe'hon:weh who were on the outside back into the community. The men stopped them, took them into their protection and chased off the police.
"There was nothing to negotiate. Some wanted to end living under threat of invasion. They petitioned the federal government to bring in the 101st Airborne Division of the regular army to do away with the 'warrior society'.
"The feds needed a reason to invade. A phony gun fight was created where the Canadian government supplied guns to the antis. Two young men were murdered. The excuse was then made to come in. Canada sent St. Regis police, RCMP, OPP; NYS sent in Troopers, federal marshalls, local police and other policing agencies. Nobody was ever prosecuted for these murders.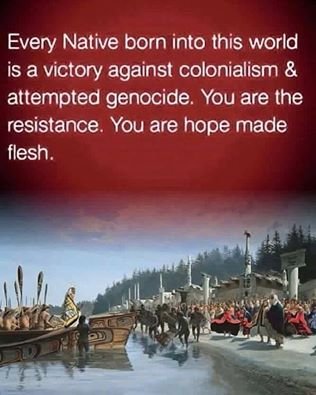 "Onondaga chiefs stayed out. A rotiskenrakete told the NY Times, "The Chiefs in Onondagas were museum Indians and cowards with power!" An anti phoned them warning them to be careful what they say or something is going to happen to them. They refused a face to face meeting.
After this Admiralty rules and regulations were made to control all INDIAN gaming.
"Overwhelming forces did not discredit the rotiskenrakete."
Johnny Cash asks what we have become and that everyone goes away in the end: [Hurt]
https://www.youtube.com/watch?v=vt1Pwfnh5pc
MNN Mohawk Nation News kahentinetha2@yahoo.com or more news, to donate and sign up for MNN newsletters, go to www.mohawknationnews.com More stories at MNN Archives. thahoketoteh@ntk.com Address: Box 991, Kahnawake [Quebec, Canada] J0L 1B0 or original Mohawk music visit https://soundcloud.com/thahoketoteh
CAN YOU TELL THESE CORPOS YOUR VIEWS ON THE ORCHESTRATED CHAOS IN OUR COMMUNITIES. THANKS:
Minister of Indian Affairs, Carolyn Bennett, minister@aadnc-aandc.gc.ca
Indian Affairs Toronto, 25 St. Clair Avenue East, 8th floor
TORONTO, ON M4T 1M2
Tel.: 1-800-567-9604
Fax: 1-866-817-3977
TTY: 1-866-553-0554
Email: InfoPubs@aadnc-aandc.gc.ca
Minister of National Defence, sujjan.h@gc.ca 1-866-236-4445 IDO-BDI@forces.gc.ca
U.S. President Barak Obama, president@whitehouse.gov
All Media, Pope Benedictum XVI, St. Peter's Sq., Vatican City, Rome Italy; Canadian Center for Foreign Policy Development,press@royalcollection.org.uk(National Forum on Africa);
Prime Minister Justin Trudeau j.trudeau@parl.gc.ca
Six Nations of Grande River 519-445-2201
HCCC & HDI http://haudenosaunee.ca/2.html or http://www.haudenosauneeconfederacy.com/contactus.html