Please post & distribute.
MNN. Feb. 15, 2017. Our visitors come and go. We stay. Hardship and poverty are everywhere. USA Inc. is the republic of war. The corporation will lose the war.
President Trump's job is to use the pretend democracy to destroy. Says he, "I promise that things will be different". Social values are being torn down. Lives are being made meaningless. The energy in his speeches make him bend reality in a convincing way.
Tensions are raised at mass rallies that switch off the thinking process. Resistance crumbles. Falsely depicted history can't provide guidance. The people can't plan their escape. Trump says in effect, "As the white knight I will save you from impending disaster" with the help of the military.
The military occupiers stole everything they have from us. Resisters are still being murdered. The US broke every treaty it ever made.
Fences are being made to corral everybody else, while the master race escapes and tries to carry off their stolen booty.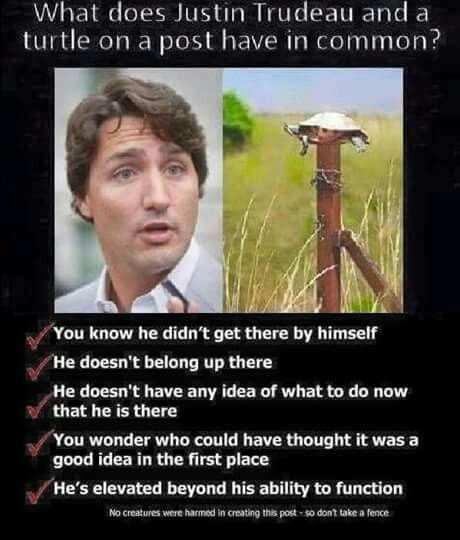 Canada Inc.'s Trudeau is the double agent that invites Trumpsters to Canada through an "imaginary line" called a border. His job is to help plant US flags throughout the world.
US infrastructure desperately needs repairs.
Trump says US is invincible. He creates enemies to implement the corporate apocalyptic  programming.
People's institutions are destroyed or taken over. Those who are obedient and accept martial law are spared. The rest are sent for reeducation or gone.
Dead presidents and dead military heroes are constantly celebrated.
Trump has not been in political upheavals. A revolution needs dirty hands. He means that the people will grab without question their shovel and get out there and start building. 
It's a double game. The state is being undermined from within.
onkwe'hon:weh, the inherent people, see the serpents departing from great turtle island, leaving and they will never be seen again by us here on ono'ware:keh. We will remain to follow the original instructions of creation.
John Cougar Mellencamp had this to say about the promises of the "meltng pot": "And in the end it's always just some game. The heartbreak, the laughter has al been in vain. Beat up and lied to for your whole life. Kick you in the head in the melting pot. The hawks live upstairs where the air is clean. They like to swoop down into the melting pot and gnaw at your brain. Money, sex and power, jerk you off in the back seat of the meling pot. They say I saw you last night and you sure were looking sweet in the melting pot." https://www.youtube.com/watch?v=EvoI_5yeawU
Mohawk Nation Newska***********@ya***.com/"> ka***********@ya***.com for more news, to donate and sign up for MNN newsletters, go to mohawknationnews.com More stories at MNN Archives.  Address: Box 991, Kahnawake [Quebec, Canada] J0L 1B0 or original Mohawk music visit https://soundcloud.com/thahoketoteh
NO ONE TOLD TRUM ABOUT STANDING ROCK.
at the table archie and trudeau
New Mexico Water Protectors at Standing Rock
 http://www.activistpost.com/2017/02/manifesto-new-world-order.html