Please post & distribute.
Feb 1, 2023.
Recently the Kahnistenseras of Kahnawake were invited to Hart House of University of Toronto to speak about current indigenous issues. 
 Globe & Mail 1964 republication  of Feb. 11, 1965. ProQuest Historical Newspapers : "Self-Support Indian Goal"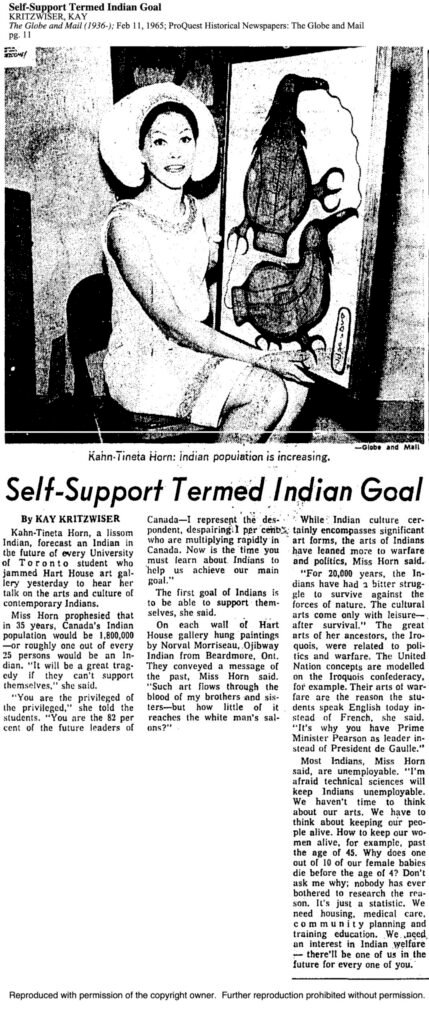 Kahentinetha Horn, a lissum Indian, forecast an Indian in the future of every University of Toronto student who jammed Hart House art gallery yesterday to hear her talk on the arts and culture of contemporary Indians.                                       Miss Horn prophesied that in 35 years, Canada's Indian population would be 1,800,000 – or roughly one out of every 25 persons. would be an Indian, she said.          "You are the privileged of the privileged", she told the students. "You are the 82 per cent of the  future leaders of Canada" – I represent the despairing 1 per cent who are multiplying rapidly in Canada. Now is the time you must learn about Indians to help us achieve our main goal."                                                                        The first goal of Indians is to be able to support themselves, she said.                       On each Wall of Hart House gallery hung paintings by Norval Morrisseau, Ojibway Indian from Beardmore, Ont.  "They conveyed a message of the past", Miss Horn said.  "Such art flows through the blood of my brothers and sisters – but most of the benefits reaches the white man's salons?"                                                        While Indian culture certainly encompasses significant art form, the arts of Indians have leaned more to warfare and politics, Miss Horn said.                                "For 20,000 years, the Indians have had a struggle to survive the forces of nature.  The cultural arts come only with leisure –  after survival." The greats of her ancestors, the Iroquois, were related to politics and warfare. The United Nations concepts are modelled on the Iroquois Confederacy, for example. Their arts of warfare are the reasons the students speak English today instead of French, she said. That's why you have Prime Minister Pearson as leader instead of President de Gaulle".                                                                                                        Most Indians, Miss Horn said, are unemployable. "I'm afraid technical sciences will keep Indians unemployable. We haven't time to think about our arts. We have to keep our people alive. How to keep our women alive, for example, past the age of 45. Why does one out of 10 of our babies die before the age of 4? Don't ask me why; nobody has ever researched the reason. It's just a statistic. We need housing, medical care, community planning, training and education. We need an interest in welfare –  there'll be one of us in thec future for every one of you. 
     Note to readers: The population of indigenous people in Canada today is 1.800,000.