MNN. June 29, 2013. The mayors of four Montreal South Shore communities are blocking Quebec's decision to give back a 300-acre plot of stolen land to the Mohawks of Kahnwake. It was taken to build Highway 30 on unceded territory. The mayors said "two wrongs don't make a right". Returning stolen property is just wrong! They have big plans for this prime real estate, which is presently zoned for agriculture.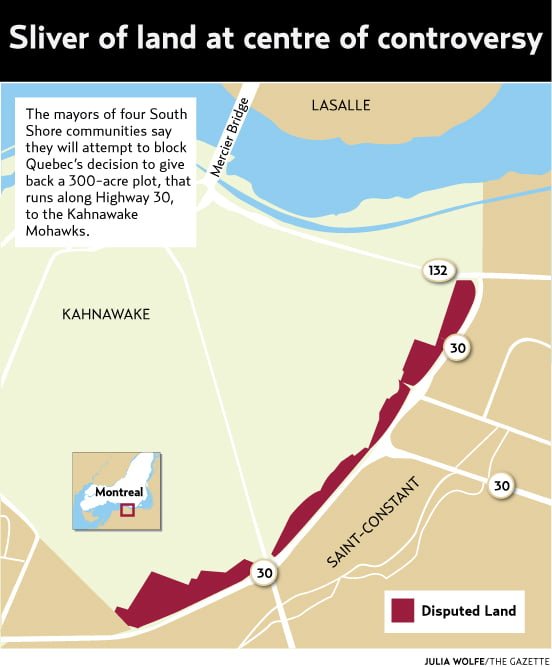 The Mohawks have seen Kahnawake shrink to make way for railroads, highways and bridges. During construction of the St. Lawrence Seaway, thousands of tons of clay were dug up and dumped onto Kahnawake, making it useless for agriculture. No consultation ever took place. 
On August 17, 2008, the Women Title Holders of the Mohawk Nation issued a Notice of Objection to the illegal construction of Highway 30 on Kahnawake. It was sent by registered mail to Canada, Quebec and their puppet Mohawk Council of Kahnawake. 
The northern "Keepers of the Eastern Door" of the Iroquois Confederacy have the duty to protect the territory, old villages, burial sites and waterways. The colonial Quebec construction permits are illegal. The Mohawk Council of Kahnawake is an entity of the Canadian Corporation. They cannot make decisions for the Mohawk Nation.  
According to WAMPUM 44 of the Great Law of Peace, the Women are the caretakers of the land, water and air for the future generations of Great Turtle Island. Foreign laws, the usurpation of Kanionkehaka territory and resources have always been resisted.  
These rights are affirmed in the British North America Act, 1867, Sections 109 and 132; the international Covenant on Civil and Political Rights, the Universal Declaration of Human Rights, the Convention on the Prevention of Genocide, United Nations Convention on Economic, Social and Cultural Rights and other international legal instruments that Canada has signed. 
General Assembly Resolution 1541 [XV] requires the informed consent of the people before they are included in another state; the international Court of Justice affirmed this in the Western Sahara case; and the Indigenous people never consented to be part of Canada; 
Canada, Quebec, the Mohawk Council of Kahnawake and all their agents violated inherent Mohawk authority. The Mohawk Nation is the legal authority as confirmed by the law of the land, Kaia'nere:kowa. All individual or foreign entities wishing to discuss issues must go through proper diplomatic channels.   
The visitors can come to one mind with us by following the white roots to its source and to sit under the shade of the tree of peace. This cycle of abuse, enforcing illegal jurisdiction over Mohawks, illegal construction must end. Dignity, equality and a voice to all peoples is extended. The Mohawks are taking back some of our land. As the Beatles sang, "Get back, get back, get back to where you once belonged. Get Back, get back, go home". Get Back

Iran defending Native Canadians rights
MNN Mohawk Nation News kahentinetha2@yahoo.com Thahoketoteh@hotmail.com For more news, books, workshops, to donate and sign up for MNN newsletters, go to www.mohawknationnews.com  More stories at MNN Archives.  Address:  Box 991, Kahnawake [Quebec, Canada] J0L 1B0 Download Mohawk music for free at thahoketoteh.ws