Please post & distribute.
MNN. 14 Jan. 2020. "Rule of Law" is Admiralty Law, imposed by invasion of Turtle Island. They can kill everybody on behalf of the banks, corporations and money! The pipeline financiers think they can win.
From allies/supoporters: "This morning we find ourselves bracing for another paramilitary attack on unarmed People of the Wet'suwet'en Clans, the Unist'ot'en, their Gitxsan neighbours, and allies from other Indigenous Peoples and settlers. 
"John Horgan, the premier of BC who recently made the token gesture of herding passage of a version of UNDRIP through the provincial parliament, is "pulling a white man" and refuses to acknowledge the supremacy of Wet'suwet'en law on lands neither he or Canada has ever made treaty to access. . . ." . .  to show his corporate backers that he would honour their investment over a bunch of stone age indians wearing colourful blankets and feathers getting in the way of "progress".
"In the next few hours or days, we will see the inevitable breaking of 10,000 year old Wet'suwet'en laws for the expediency of enhancing shareholder value while killing the planet.
Muse say it all in "Uprising": paranoia is in bloom. the PR transmission will resume. they'll try to push drugs that keep us all dumb down and hope that we will never see the truth around [so come on]!!!! . . . they will not force us …. they will not degrade us …. they will not control us …. we will be victorious!
THESE ARE COASTAL GASLINK WORKERS BEING ASSEMBLED TO MOVE IN.
https://www.cbc.ca/…/lng-pipeline-horgan-british-columbia-1…
"

Now all you Canadians . . .  This has everything to do with you. Your Canada Pension money and tax dollars are supporting the breaking of Wet'suwet'en law and the reckless disregard for their Peoples who are now shut off by the starvation ring of the RCMP exclusion zone. This governmen

t is committing this crime against humanity on your behalf.
Canada has NEVER secured the right to access this land except at the point of a gun and mass of forces. 
This is what you support with your silence.
 Hiding behind their curtains and telling themselves a crime against humanity was none of their business because the "rule of law" said it was legal.
#WetsuwetenStrong#WhiteFragility#Genocide#CrimesAgainstHumanity
John HorganJustin TrudeauMarc Miller
wisk niwatsen tsata. wisk nikon kayenkwireh iohniron tsi skatneh tekaneren ne kenton tsi rahisaststeh ne wisk nihononwentsakeh tsi yatehonatieston, enskka wahonton, skanentsista, skayeronta tahnon skanikonra. skatne tsi enhotihyoten, enhatiyanerensehronni tanon skatneh enhatisenhayenstakeh ne  akotsennonnia ne tahatikons-tontie.
rotiynerson sjkatneh tenhontonteh enkneh sakaksa ne yori tsaniton ohtason. tsinikariwest tehonatskahon iatahonsteh nahoten ioio tihye, oen kineheh iatatahontatreneh tanon ahontenekwensariron. akwekon tsinahoton enhotenienten ne tosa ahontenekwensariron.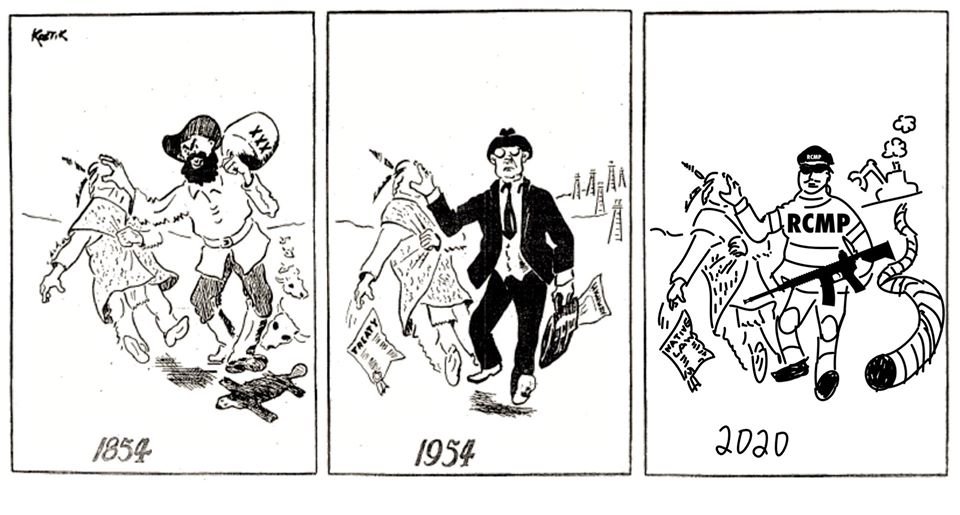 ALERT! READ UNITOTEN TODAY:
Links
https://www.theglobeandmail.com/canada/british-columbia/article-coastal-gaslink-pipeline-will-be-built-bc-premier-john-horgan/?fbclid=IwAR3bU0xPEE4lfb8Q9miOXZKSKGwy1-6hrHvoWIHMxW3j4AdKmBH2X3W7hvA
https://ricochet.media/en/2474/rcmp-violate-press-freedom-by-barring-journalists-from-first-nations-territory?fbclid=IwAR3AZ4fl575glDtMBmoDxM2yxZ_hABjAxCiN5FKaLIN4v2MoZi_egvdeUM