Please post & distribute.
MNN. AUG. 16, 2016. We're hoping the wait for justice may soon be over! After almost 20 years since the brutal beating of over 100 onkwe'hon:weh by the New York State Troopers [Jones, et al v. Parmley, et al 5:98-cv-00374-FJS-TWD] the following bunch of orders came: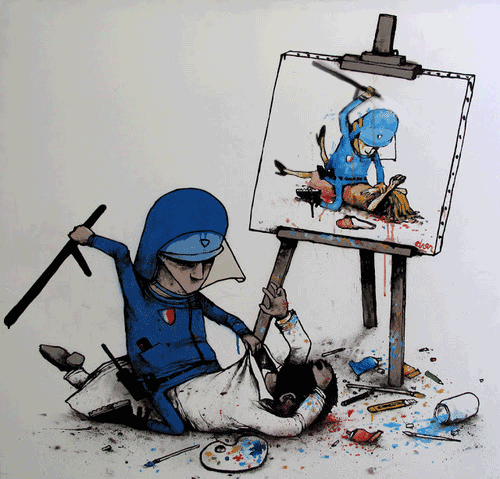 The Court hereby ORDERS that Counsel for Defendants and all pro se Plaintiffs shall attend in person pretrial conference on August 18, 2016, at 11:00 a.m. in Syracuse, New York. .. the Court will dismiss with prejudice the claims of any pro se Plaintiff who fails to attend. The Court further ORDERS that the date for filing and serving pretrial submissions and motions … and any opposition to motions in limine, as set further in the Court's Order dated February 12, 2016, remains in effect. The Court also advises … September 8, 2016 meeting is on and does not affect the date for the commencement of the trial … September 20, 2016. Signed by Senior Judge Frederick J. Scullin, Jr. on 7/8/2016. [Copy served upon pro se plaintiffs via regular mail] [nmk]
We are the victims. 17 of us have no lawyers. Terrance Hoffman, Anello, Peikin and the rest dumped us as clients when we refused to take the money offered by NYS to drop everything and keep our mouths shut. The Court in Syracuse is "procedurciding" us.
Scullin sent a threat to us to visit his [court] house or else! Also, we have to file and serve this and that paper to him and dozens of his friends by a complicated costly railroading system called a 'dead'line or else they're good for nothing! We don't have electronic mail. They won't accept anything by email or fax. Our custom is to send a runner with a wampum to verbally deliver our messages.
We're being jerked around. We need worldwide support.
Ask these officials what's going on: Angela C. Winfield aw*******@ba**********.com; Brittany E. Aungier ba******@ba**********.com; Carol L. Rhinehart cr********@on***.net dk****@on***.net; Devin M. Cain dc***@ma****.com; Elkan Abramowitz EA*********@ma****.com; Gabriel M. Nugent gn*****@ba**********.com Fax 1-315-425-2836; Joanna Gozzi Jo*********@on***.net, de*********@on***.net; Jodi M. Peikin JP*****@Ma****.com, CS***@Ma****.com, RA*****@Ma****.com; Robert J. Anello ra*****@ma******.com; Terrance J. Hoffman tj*******@cn*****.com; Timothy P. Mulvey ti************@ag.gov Fax 1-315-448-4800; Judge Scullon's assistant Nicole Eallonardo Ni***************@ny**.gov Fax 1-315-234-8501. Please let us know what you find out.
Johnny Cash's song "Cocaine Blues" ia dedicated to th Troopers: "In walked the man holding the verdict in his right hand. The verdict read in the first degree. I hollered, "Lawdy, lawdy. Have mercy on me!" The judge he smiled as he picked up his pen – 99 years in the Folsom pen … 99 years underneath that ground … Come on, you gotta listen unto me … lay off that whiskey and let that cocaine be."
https://www.youtube.com/watch?v=tpCVyYqL1qY
The Permanent Court of Arbitration
Pipeline protest. Sacred Stone Camp North Dakota.
ALERT: PayPal has taken all of MNN's funds [$165] without explanation. They are asking for payment to close down account. MNN Mohawk Nation Newska***********@ya***.com/"> ka***********@ya***.com for more news, to donate and sign up for MNN newsletters, go to mohawknationnews.com More stories at MNN Archives. th**********@nt*.com/">th**********@nt*.com Address: Box 991, Kahnawake [Quebec, Canada] J0L 1B0 or original Mohawk music visit https://soundcloud.com/thahoketoteh