Please post & distribute.
MNN. 16 Feb. 2020. Minister of Indigenous Affairs of the corporation of the Government of Canada Inc. 1982, met with the kanionkehaka'onwe of kentekeh. They are standing by the train tracks that go through their community in solidarity with the sovereign Wet'suwet'en, who have been invaded by the RCMP on behalf of Coastal Gas Links who are illegally constructing a private 670 kilometre pipeline through their unceded territory.   
MINISTER OF INDIGENOUS AFFAIRS, MARC MILLER, MEETS WITH CANADA'S ELECTED BAND COUNCIL:
AFTER MEETING WITH THE REAL ONKKWEHONWEH: 
HERE ARE THE MAIN CORPORATE BENEFACTORS OF STOLEN LAND AND RESOURCES OF THE WET'SUWET'EN :
Mainstream media is trained to antagonize, mislead, and misrepresent  the onkwehonweh. Here is some MM slander: 
 "RECONCILIATION": OUR RELATIONS HAVE BEEN FRIENDLY. A GUN HAS ALWAYS BEEN POINTED AT US.  THE ONKWEHONWEH HAVE ALWAYS BEEN CARETAKERS OF THE LAND AND PEACEFUL. 
CANADIANS ARE CANA'JON "SQUATTERS".
PROTESTERS ARE "LAND DEFENDERS".
"INJUNCTIONS" ARE WORTHLESS . 
TEHIOHATEH THE TWO ROW IS THE ONLY RELATIONSHIP THAT GRANTED THE INVADERS THE RIGHT TO BE ON TURTLE ISLAND. IT IS BROKEN. THEY MUST LEAVE.
'DEMONSTRATORS" ARE CARETAKERS.
THE FORKED-TONGUED INVADERS SAY THEY NOW WANT TO BE MORE DELICATE AND SENSITIVE!! 
ACCORDING TO THE KAIANEREKOWA THE WAR IS NEVER OVER UNTIL THE GREAT PEACE WINS. 
TRUDEAU SAYS, "WE'RE NOT THE KIND OF COUNTRY WHERE POLITICIANS TELL PEOPLE WHAT TO DO" – THIS MEANS THE CANA'JON [CANADIANS] ARE GOING TO SEND MERCENARIES IN. THEY'VE ALWAYS POINTED WEAPONS AT US .
"PARASITE": AN ORGANISM THAT LIVES IN OR ON AN ORGANISM OF ANOTHER SPECIES [ ITS HOST] AND BENEFITS BY DERIVING NUTRIENTS AT THE OTHER'S EXPENSE.  THE COLONY OF CANADA IS AN EXTRACTIVE STATE. THE TWO ROW AND KAIANEREKOWA PROVIDE THAT WHEN IT IS BROKEN, THEY ARE TO BE EXPELLED SO THAT PEACE MAY CONTINUE FOR THE NEXT SEVEN GENERATIONS.
WE HAVE ACHIEVED PEACE ON TURTLE ISLAND NORTH AND SOUTH AMERICA FOR THOUSANDS OF YEARS UNTIL THE VATICAN IMMIGRANTS BROUGHT BACK THE WAR.  
BILL C51 IS CREATED BY THE TERRORISTS SITTING IN PARLIAMENT. 
INDIAN AFFAIRS IS A DEPARTMENT OF THE MILITARY INTENDED TO KEEP THE "INDIANS" INTERNED PERPETUALLY, FOREVER. THEIR "RULE OF LAW" IS ILLEGAL BECAUSE THEIR CRIMINAl CODE IS BASED ON THE INDIAN ACT AND IT WILL NEVER PASS THE STANDARDS OF INTERNATIONAL LAW. 
The teiohateh, the good message from dekanawida, is the record of the first agreement between Europeans and onkwehonweh on onowarekeh, Turtle Island of North & South America. On this planet all living things have the same mother. She is the earth. We all have the same father, the source energy of all creation. We are all brothers and sisters and shall survive and coexist as such.
thahoketoteh sings about the real eternal soul is through our constitution.  Everybody is talking about political corruption all across the planet. Exploitation and destruction. Our past generation resorted to solutions to overthrow aggression, war and dissolution. The real revolution is spirit evolution. Eternal soul is our true constitution.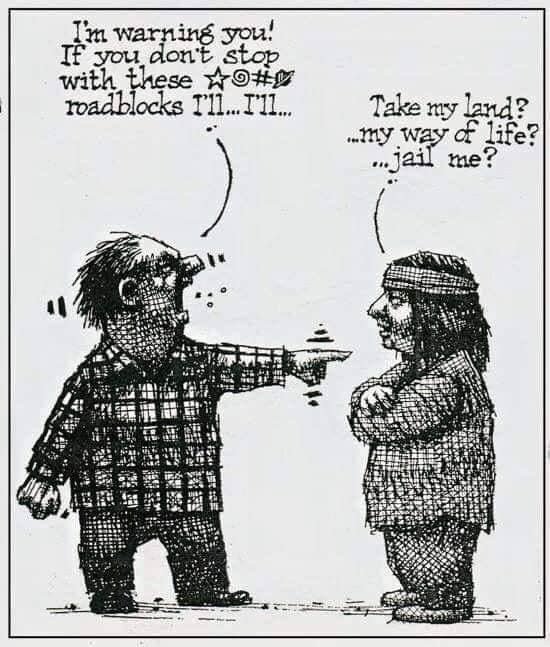 MOTHER JONES https://www.motherjones.com/environment/2020/02/the-tiny-indigenous-village-that-ground-canada-to-a-halt/