Please post & distribute. Nia:wen.
MNN. Oct. 28, 2015. The truth is you're shitting in the river, Trudeau. The following letter was sent about stopping the shit being dumped in our river: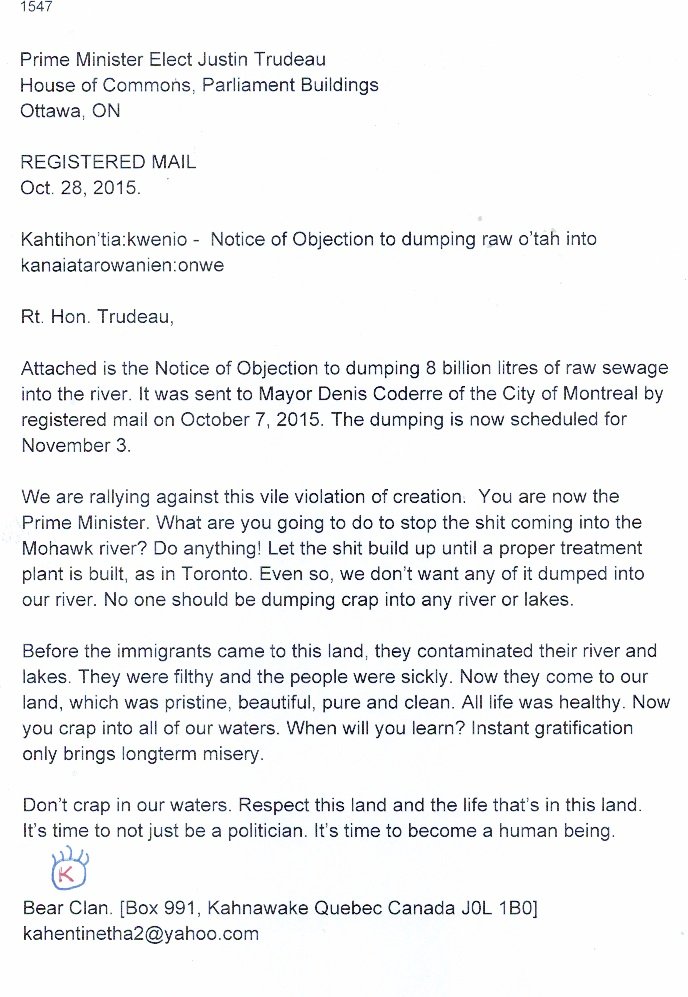 We shall all know when Trudeau answers my letter. As Joe Cocker sang: "Give me a ticket for an aeroplane. I ain't got time to take no fast train. Oh, lonely days are gone and I'm coming home. My baby, she wrote me a letter."
Brazeau wants quick return to Senate.
WE NEED HELP: Vigil to STOP Montreal Mayor 'dung dung' Coderre from taking a big dump into the kaniataronwanon:onwe continues at the foot of Mercier Bridge.
Everyone is welcome to join in solidarity. Needed: food, wood, another tent. Contact Ghost: 514-619-2837; "Protectors of the St. Lawrence. Time for change" https://www.facebook.com/The-Protectors-of-the-St-Lawrence-River-Time-For-Change-451363881709850/ and savetheriver@riseup.com. 
Give the corporate matrix your views: Mayor Denis Coderre, 514-872-0311 maire@ville.montreal.qc.ca; David Heurtel, Quebec Environment Minister, 418-521-3830 info@mddelcc.gouv.qc.ca; Environment Canada, 1-800-668-6767; Prime Minister Justin Trudeau justin.trudeau@parl.gc.ca, 515-277-6020, 613-995-8872. SUZANNE FORTIER, McGill 514-849-4179 suzanne.fortier@mcgill.ca; Geoff Molson info@canadianclub-montreal.ca 514-398-0333.
MNN Mohawk Nation News kahentinetha2@yahoo.com or more news, books, workshops, to donate and sign up for MNN newsletters, go to www.mohawknationnews.com More stories at MNN Archives. Address: Box 991, Kahnawake [Quebec, Canada] J0L thahoketoteh@hotmail.com for original Mohawk music visit thahoketoteh.ws