Please post & distribute.
MNN. May 21, 2017. This is a story about rain. There was a hole in my roof. Water flowed into the house. Wall, floor and carpet were soaked. It was an Emergency. More rain was coming! As a pensioner pushing 80 years of age, I needed help to buy construction supplies and a contractor. 
I rushed to the Kahnawake Housing laggards. They asked, "What can we do for you?" I told them the desperate situation. They said "sorry". I hate sorry! When I want expert advice, I talk to myself.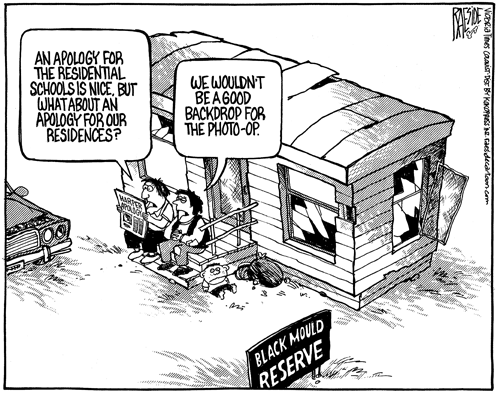 I was not eligible for the discretionary contingency funds for emergencies unless I went through a very slow cumbersome procedure. But I was eligible to borrow my own money from them. 
The whole existence of the Canadian government and its lackeys is based on the "band" list, which comes from the extortion of our stolen $900 trillion dollar Indian Trust Fund. They administer the scam. 
Their job is to hold onto our stolen funds. They get good salaries, nice houses, cars, some have winter homes in Florida, membership in fancy clubs. They are part of the genocide. 
A friend covered the roof hole with a tarp. Wet wall, carpet, basement tiles were removed. Dehumidifiers and fans were set up.
 The CMHC Central Mortgage & Housing grant is based on reports, inspections, estimates, second and third guesses, photos, visits from the local cheeses and final signatures. RL explained, "If you don't pay us back [even the last $58 payment], the council corporation can grab your house! We follow orders!" 
I called the corpo chief in charge, G.B. Laborgne, who said, "You have to go through the process" and hung up [450-632-7500]. I went home. Inspectors with their high tech gear descended on me. They looked, climbed the roof, marched around my house, took pictures and then left. They came back again and again, without hazmat suits to protect them from the mould. They wrote a ten page report of instructions.  
Out of desperation I signed a loan agreement to borrow my own money with interest! 
Nearby non–native flood victims cried for the army to save them and to be provided with post traumatic stress counselling. They are angry at mother earth for doing her job! Kanesatake Mohawks refused military assistance and told them, "Get outta here. Don't you dare bother us". 
The corpo chiefs and their troops recently cut checks for "dire emergencies" like going to Las Vegas to talk about our mis-administered education! They had fun in Sin City, to win where the lights are bright, to blow our money. 
Bon Scott knows exactly what these traitors were doing in Sin City: "Diamonds & dust. Poor man last. Rich man first. Lamborghini, caviar, dry martini Shangri-la, I got a burnin feeling deep inside of me. And it's a yearning and I'm gonna set it free cause I'm goin in to Sin City. Im gonna win in Sin City."
https://www.youtube.com/watch?v=3u8Ju_-OyNA%20
Mohawk Nation Newska***********@ya***.com/"> ka***********@ya***.com for more news, to donate and sign up for MNN newsletters, go to mohawknationnews.com More stories at MNN Archives.  Address: Box 991, Kahnawake [Quebec, Canada] J0L 1B0 or original Mohawk music visit https://soundcloud.com/thahoketoteh 
MONEY TALKS file:///Users/kahentinetha/Downloads/money%20talks1.pdf 
https://canadatalksisraelpalestine.ca/2017/05/11/in-unexpected-move-trudeau-commits-canada-to-defending-zionism/ TRUDEAU COMMITS CANADA TO DEFEND ZIONISM 
https://www.yahoo.com/news/dakota-access-pipeline-vandalism-highlights-sabotage-risks-050330164.html PIPELINE VANDALISM OR FAULTY CONSTRUCTION
https://wearechange.org/u-s-supreme-court-says-no-license-necessary-to-drive-automobile-on-public-highwaysstreets/ DRIVERS LICENSE UNNECESSARY
korea destroys blue house http://www.dailystar.co.uk/news/world-news/613360/north-korea-south-kim-jong-un-blue-house-replica-destroyed 
http://www.burrardstreetjournal.com/trump-trudeau-canadas-worst-president-yet/ TRUMP GIVES TRUDEAU BAD GRADES
http://www.veteranstoday.com/2017/05/09/alex-jones-prison-planet-lies-for-israel/ ALEX JONES LIES 
The long awaited "F-ck Trump" column by Subcomandante Galeano (Marcos) is now available in English. http://bsnorrell.blogspot.com/2017/04/zapatistas-prelude-timepieces.html 
https://www.facebook.com/ProlificTheRapperOfficial/videos/647826552077657/ PROLIFIC THE RAPPER 
http://realpeoples.media/blog/2017/05/07/spies-midst-rcmp-csis-snoop-green-activists/ WIKILEAKS REVEALS SPIES AONG ONKWE-HON-WEH
Cultural appropriation http://www.cbc.ca/news/entertainment/niedzviecki-interview-video-1.4115815 
https://www.youtube.com/