Please post and distribute.
Author of the article:
Jason Magder  •  Montreal Gazette Nov. 1, 2023
Judge overturns Mohawk pair's tobacco conviction, citing centuries-old treaties
A judge found that White and Montour were exercising the rights of the Mohawk nation to direct its own economy.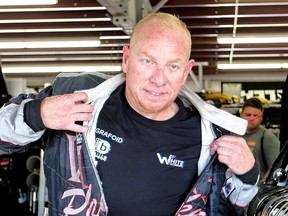 The Two men won't face criminal charges thanks to ancient treaties written in the 1600s and 1700s, a Superior Court judge ruled Wednesday.
In a much-anticipated and precedent-setting trial, Judge Sophie Bourque ruled that the Crown was wrong to charge Derek White and Hunter Montour with criminal charges related to smuggling tobacco.
The pair were among 60 people arrested as part of Operation Mygale on March 30, 2016, an investigation into alleged tobacco smuggling from the United States and evasion of millions of dollars in taxes that should have been paid to the provincial and federal governments.
Police alleged tobacco was traded between North Carolina, New Jersey and Canada. They claimed more than 20 shipments totalling nearly 2,300 tonnes of tobacco were shipped to warehouses in St-Jean-sur-Richelieu and St-Rémi. White was charged with defrauding Quebec of $44 million in tobacco taxes.
In 2019, White, a former NASCAR driver, was acquitted on one of the two charges of fraud and conspiracy to commit fraud. However, he was found guilty of fraud, conspiracy to commit fraud and profiting from organized crime for not paying federal excise tax on the tobacco that was imported from the United States. Montour was found guilty of aiding organized crime. 
White was facing up to 14 years in prison, while Montour was facing up to five years.
The pair launched a constitutional challenge to that ruling, arguing that Excise Tax Act tariffs on imports are not applicable to Mohawk people based on Section 35 Constitution Act rights as well as the United Nations Declaration on the Rights of Indigenous Peoples and rights to trade tobacco tax-free.
They argued that the Mohawk nation has the right to control its economy based on ancient agreements with the British colonial powers.
On the other side, the Crown argued that the Covenant Chain was never considered to be a treaty that is protected under the rights of Indigenous people to self-government.In her 365-page judgement, however, Bourque found that the Covenant Chain was still valid, and that it superseded the other 10 treaties. The Covenant Chain concludes that the Mohawk nation has the right to freely develop its economy, she said. This right is inherent for all Indigenous people and it is protected by the Haudenosaunee traditional justice system. She found that White and Montour were exercising those rights, so the criminal charges against them were not valid.She also found that Article 42 of Canada's excise law was an unjustified violation, giving the Ministry of Revenue a large discretionary power on issuing licences on the tobacco trade without considering ancestral rights.
Bourque said the trial served as an opportunity to re-evaluate ancient agreements with Indigenous communities in light of Canada's adoption of the United Nations Declaration on the Rights of Indigenous Peoples, the Universal Declaration of Human Rights and the Truth and Reconciliation Commission.
The trial lasted from October 2021 to April 2022. It took Bourque an additional 18 months to render her judgement. The ruling is considered to be an important and precedent-setting one, and as such it may be appealed.
Message to the government of Canada comes from our great friend, Willie Nelson: "Say goodnight, the party's over". 
boc 991 kahnawake que. canada J0L 1B0